ShowMe Weather
April 04th 2018 by Dee Loflin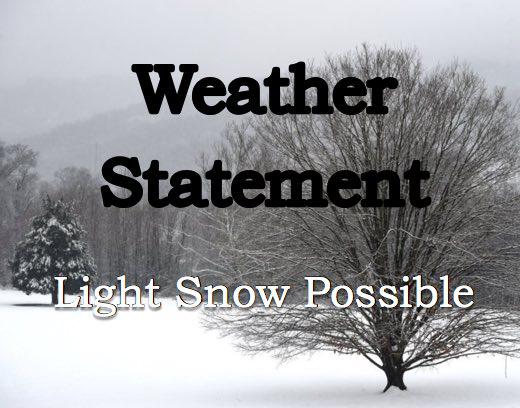 Stoddard County, Missouri - The National Weather Service in Paducah, Kentucky has issued a Special Weather Statement - SNOW IN THE FORECAST!!!
...SOME WET SNOW ACCUMULATIONS POSSIBLE FRIDAY NIGHT OVER PORTIONS OF THE FOUR STATE REGION
... THE POTENTIAL FOR ACCUMULATING SLEET AND WET SNOW CONTINUES FOR FRIDAY NIGHT, ESPECIALLY ALONG AND NORTH OF A LINE FROM PERRYVILLE, MISSOURI EASTWARD ACROSS THE I-64 CORRIDOR OF SOUTHERN ILLINOIS INTO SOUTHWEST INDIANA. RAIN IS FORECAST TO CHANGE TO SLEET, AND THEN SNOW FRIDAY EVENING BEFORE MIDNIGHT.
TRAVEL MAY BE ADVERSELY IMPACTED, ESPECIALLY LATER IN THE EVENING AS TEMPERATURES FALL OFF QUICKLY TO NEAR THE FREEZING MARK ACROSS SOUTHERN ILLINOIS AND SOUTHWEST INDIANA.
FARTHER SOUTH ACROSS SOUTHEAST MISSOURI INTO MUCH OF WESTERN KENTUCKY, A COLD RAIN MAY PERSIST LONGER, BEFORE A POSSIBLE CHANGE TO SLEET AND/OR SNOW TOWARD THE END OF THE PERCEPTION LATER FRIDAY NIGHT.
AS OF NOW, LITTLE IF ANY WINTER WEATHER IMPACTS ARE ANTICIPATED IN THOSE LOCATIONS.
IT SHOULD BE NOTED THAT FORECAST MODELS STILL DIFFER SIGNIFICANTLY WITH THE TRACK OF THE STORM SYSTEM FRIDAY NIGHT.
A SMALL SHIFT TO THE NORTH OR SOUTH IN THE UPCOMING DAYS COULD LEAD TO LARGE CHANGES IN THE FORECAST AT ANY GIVEN POINT ACROSS THE FOUR STATE REGION. STAY TUNED.

Last Updated on April 04th 2018 by Dee Loflin
https://showmetimes.com/Blogpost/va59/Special-Weather-Statement--Snow-Potential-on-Friday