ShowMe Weather
March 27th 2018 by Dee Loflin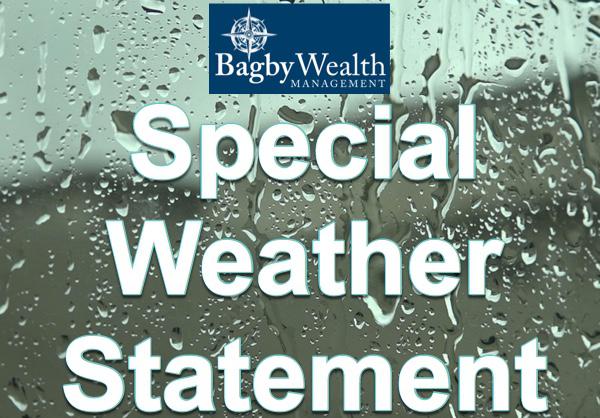 Stoddard County, Missouri - The National Weather Service in Paducah, Kentucky has issued a Special Weather Statement until 4:30 a.m. Wednesday morning.
SPECIAL WEATHER STATEMENT UNTIL 4:30AM CDT WED
...LOCALLY HEAVY RAIN STILL EXPECTED TO IMPACT SOME LOCATIONS TONIGHT INTO WEDNESDAY MORNING
... A SLOW MOVING COLD FRONT HAS CONTINUED TO DRIFT SLOWLY SOUTHEAST ACROSS WESTERN KENTUCKY LATE THIS EVENING. ALONG, AND ESPECIALLY BEHIND THIS COLD FRONT, NUMEROUS SHOWERS ARE EXPECTED THROUGH MIDNIGHT.
MANY LOCATIONS ACROSS SOUTHEAST MISSOURI AND SOUTHERN ILLINOIS HAVE ALREADY PICKED UP FROM 1 TO 2 INCHES OF RAIN, WITH A FEW LOCALLY HIGHER AMOUNTS.
HOWEVER, NO REPORTS OF FLOODING HAVE BEEN RECEIVED SO FAR THIS EVENING. IT IS NOW LOOKING AS THOUGH THE HEAVIER RAINS PUSHING SOUTHEAST INTO THE OHIO RIVER VALLEY WILL TAPER OFF A BIT AS WE HEAD PAST MIDNIGHT.
THEN, ANOTHER ROUND OF HEAVIER RAINS WILL LIKELY GET GOING DOWN ALONG THE MISSISSIPPI RIVER IN NORTHEAST ARKANSAS AND NOSE RAPIDLY NORTHEAST INTO SOUTHERN PORTIONS OF WESTERN KENTUCKY LATE TONIGHT INTO WEDNESDAY MORNING.
ALTHOUGH WIDESPREAD OVERLAND FLOODING IS NOT EXPECTED TO OCCUR, A FEW POORLY DRAINED AND LOW LYING AREAS MAY SEE SHARP RISES IN WATER LEVELS, INCLUDING SMALLER CREEKS, STREAMS, AND DITCHES. PONDING OF WATER ON ROADWAYS AND REDUCED VISIBILITIES ARE ALSO LIKELY WITH ANY HEAVIER BURSTS OF SHOWERS.
THE TIME PERIOD OF GREATEST IMPACT DUE TO THE HEAVY RAIN WILL SUBSIDE ACROSS SOUTHEAST MISSOURI AND SOUTHERN ILLINOIS AS THE NIGHT PROGRESSES. HOWEVER, HEAVY RAIN IMPACTS MAY INCREASE LATER TONIGHT INTO WEDNESDAY MORNING OVER THE SOUTHERN PURCHASE AND PENNYRILE REGIONS OF WESTERN KENTUCKY.
ALWAYS USE CAUTION NEAR DITCHES AND CREEKS WITH FAST MOVING WATERS AND AVOID ANY ROADWAYS THAT MAY BE COVERED WITH WATER. REMEMBER THAT RISING WATERS ARE MORE DIFFICULT TO DISCERN WHEN IT IS DARK. YOU SHOULD ALWAYS PLAY IT SAFE. TURN AROUND, DON'T DROWN.
Last Updated on March 27th 2018 by Dee Loflin
https://showmetimes.com/Blogpost/va3b/Special-Weather-Statement--Cold-Front-Moving-In-with-Rain