ShowMe Weather
April 02nd 2018 by Dee Loflin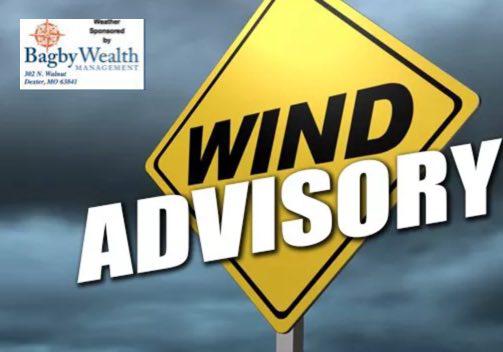 Stoddard County, Missouri - The National Weather Service in Paducah, Kentucky has issued a Wind Advisory until 7 p.m. for Stoddard County, Missouri.
...WIND ADVISORY IN EFFECT UNTIL 7 PM CDT TUESDAY
... THE NATIONAL WEATHER SERVICE IN PADUCAH HAS ISSUED A WIND ADVISORY, WHICH IS IN EFFECT FROM 7 AM TO 7 PM CDT TUESDAY. * TIMING...STRONG SOUTHWEST WINDS ARE EXPECTED MUCH OF THE DAY ON TUESDAY.
* WINDS...SOUTHWEST WINDS WILL AVERAGE 20 MPH TO 30 MPH IN MANY LOCATIONS, ESPECIALLY AS WE GET INTO THE AFTERNOON HOURS. SOME WIND GUTS OVER 40 MPH ARE ALSO EXPECTED.
* IMPACTS...TRAVEL IMPACTS WILL MOST LIKELY BE FELT ON EAST-WEST ORIENTED HIGHWAYS, ESPECIALLY FOR THOSE DRIVING HIGH-PROFILE AND LIGHT WEIGHT VEHICLES. SOME TREE BRANCHES MAY BE BROKEN OFF IN THE STRONGER WIND GUSTS. LOOSE OBJECT IN LAWNS WILL GET BLOWN AROUND.
PRECAUTIONARY/PREPAREDNESS ACTIONS
... A WIND ADVISORY IS ISSUED WHEN SUSTAINED WINDS ARE EXPECTED TO REACH 30 MPH OR GREATER FOR LONGER THAN ONE HOUR...OR WIND GUSTS ARE EXPECTED TO REACH 40 MPH FOR ANY DURATION.
Last Updated on April 02nd 2018 by Dee Loflin
https://showmetimes.com/Blogpost/va4k/Wind-Advisory-for-Stoddard-County