ShowMe Weather
March 26th 2018 by Dee Loflin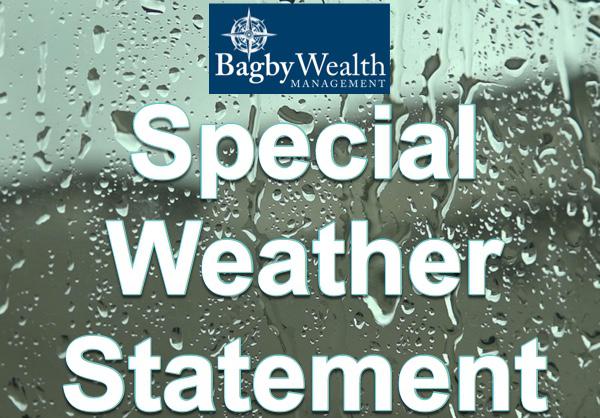 Stoddard County, Missouri - The National Weather Service in Paducah, Kentucky has issued a Special Weather Statement until 4:30 a.m. Tuesday morning.
SPECIAL WEATHER STATEMENT UNTIL 4:30AM CDT TUE ...LOCALLY HEAVY RAIN EXPECTED LATE TUESDAY INTO WEDNESDAY
... A SLOW MOVING COLD FRONT WILL PUSH THROUGH THE QUAD STATE REGION TUESDAY AFTERNOON THROUGH MIDDAY WEDNESDAY.
ALONG AND JUST BEHIND THIS COLD FRONT, LOCALLY HEAVY RAINFALL IS FORECAST TO FALL ACROSS THE QUAD STATE REGION.
ALTHOUGH WIDESPREAD OVERLAND FLOODING IS NOT EXPECTED TO OCCUR, A FEW POORLY DRAINED AND LOW LYING AREAS MAY SEE SHARP RISES IN WATER LEVELS, INCLUDING SMALLER CREEKS, STREAMS, AND DITCHES.
RAINFALL AMOUNTS THROUGH WEDNESDAY WILL RANGE FROM AROUND ONE AND A HALF INCHES IN SOUTHWEST INDIANA AND NORTHWEST KENTUCKY, TO AROUND TWO AND A HALF INCHES IN THE OZARK FOOTHILLS OF MISSOURI.
THE TIME PERIOD OF GREATEST IMPACT DUE TO THE HEAVY RAIN WILL BE TUESDAY AFTERNOON INTO TUESDAY EVENING IN SOUTHEAST MISSOURI AND SOUTHERN ILLINOIS, AND MAINLY LATE TUESDAY NIGHT INTO EARLY WEDNESDAY ACROSS WEST KENTUCKY INTO SOUTHWEST INDIANA.
ALWAYS USE CAUTION NEAR DITCHES AND CREEKS WITH FAST MOVING WATERS AND AVOID ANY ROADWAYS THAT MAY BE COVERED WITH WATER.
TURN AROUND, DON'T DROWN.
Weather provided by Bagby Wealth Management.
Last Updated on March 26th 2018 by Dee Loflin
https://showmetimes.com/Blogpost/va2p/Special-Weather-Statement-Until-430-am-Tuesday