ShowMe Weather
August 21st 2017 by Dee Loflin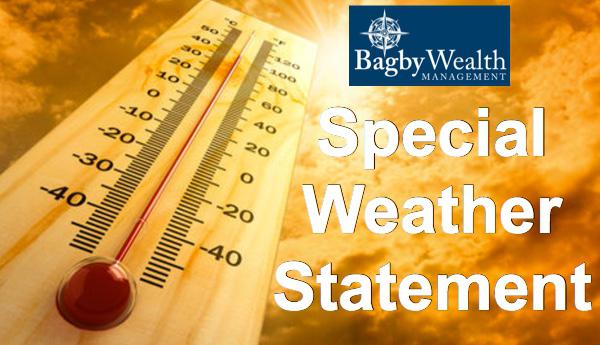 Stoddard County, Missouri - The National Weather Service in Paducah, Kentucky has issued a Special Weather Statement until 6:00 p.m. Monday.
SPECIAL WEATHER STATEMENT UNTIL 6PM CDT MON
...HEAT INDEX VALUES 100 TO 105 EXPECTED THIS AFTERNOON OVER PART OF THE QUAD STATE REGION
... HOT AND HUMID CONDITIONS WILL BE THE RULE TODAY, REGARDLESS OF THE PASSAGE OF THE SOLAR ECLIPSE THROUGH THE REGION THIS AFTERNOON, AS AIR TEMPERATURES TOP OUT IN THE LOWER 90S.
HEAT INDEX READINGS ARE EXPECTED TO REACH 100 DEGREES BY NOON OVER SOUTHEAST MISSOURI. AS TEMPERATURES RISE INTO THE LOWER 90S, HEAT INDEX READINGS ABOVE 100 DEGREES WILL BUILD NORTHEAST ACROSS SOUTHERN ILLINOIS AND THE PURCHASE AREA OF WEST KENTUCKY, WEST OF THE LAND BETWEEN THE LAKES. HEAT INDEX VALUES AT OR ABOVE 100 DEGREES WILL LIKELY PERSIST THROUGH 6 PM CDT TODAY. THE REST OF THE QUAD STATE REGION WILL SEE HEAT INDEX VALUES TOP OUT IN THE UPPER 90S THIS AFTERNOON.
IF YOU ARE PLANNING TO BE OUTSIDE TODAY FOR AN EXTENDED PERIOD OF TIME, BE SURE TO KEEP HYDRATED BY DRINKING PLENTY OF WATER. LOOK FOR OPPORTUNITIES TO GET OUT OF THE HEAT FROM TIME TO TIME, AND INTO THE SHADE OR IN AN AIR CONDITIONED BUILDING.
KEEP WATCH ON THOSE WITH YOU THAT MAY BE SUSCEPTIBLE TO OR UNACCUSTOMED TO THE HEAT AND HUMIDITY, TYPICAL FOR LATE AUGUST IN THIS REGION.
Last Updated on August 21st 2017 by Dee Loflin
https://showmetimes.com/Blogpost/v87k/High-Heat-Index-Statement-Issued-Until-6-pm-Monday