ShowMe Weather
August 20th 2017 by Dee Loflin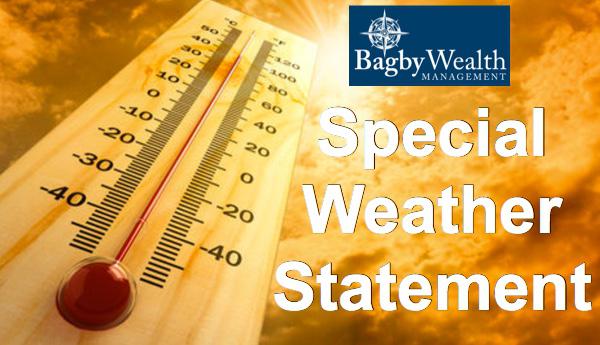 Stoddard County, Missouri - The National Weather Service in Paducah, Kentucky has issued a Special Weather Statement until 4 a.m. Monday morning.
SPECIAL WEATHER STATEMENT UNTIL 4AM CDT MON
...AFTERNOON HEAT INDEX VALUES 100 TO 105 DEGREES MONDAY
... THE HEAT AND HUMIDITY WILL CONTINUE ACROSS THE REGION MONDAY.
ALTHOUGH THE ECLIPSE ITSELF WILL PROVIDE SOME TEMPORARY RELIEF FROM THE HEAT, HEAT INDEX VALUES WILL STILL REACH AT LEAST THE UPPER 90S THROUGHOUT THE REGION AFTER IT ENDS.
THE WORST CONDITIONS WILL BE OVER SOUTHEAST MISSOURI, SOUTHERN ILLINOIS AND THE PURCHASE AREA OF KENTUCKY WHERE READINGS WILL RANGE FROM 100 TO 105 DEGREES. ISOLATED THUNDERSTORMS WILL BE POSSIBLE OVER PORTIONS OF SOUTHEAST MISSOURI AND SOUTHERN ILLINOIS IN THE AFTERNOON, SO A FEW LOCATIONS MAY RECEIVE SOME MORE SIGNIFICANT RELIEF FROM THE HEAT. IF YOU ARE PLANNING TO VIEW THE SOLAR ECLIPSE OR PARTICIPATE IN OTHER OUTDOOR ACTIVITIES, THEN PLEASE BRING ALONG PLENTY OF WATER TO KEEP HYDRATED. IF YOU HAVE ANY OPPORTUNITY TO DO SO, TAKE BREAKS IN THE SHADE OR IN AN AIR CONDITIONED BUILDING. A COLD FRONT WILL BRING STORMS THROUGH THE REGION ON TUESDAY AND COOLER TEMPERATURES FOR THE REMAINDER OF THE WEEK.
Last Updated on August 20th 2017 by Dee Loflin
https://showmetimes.com/Blogpost/v878/Heat-Index-Values-to-Remain-High