ShowMe Weather
August 19th 2017 by Dee Loflin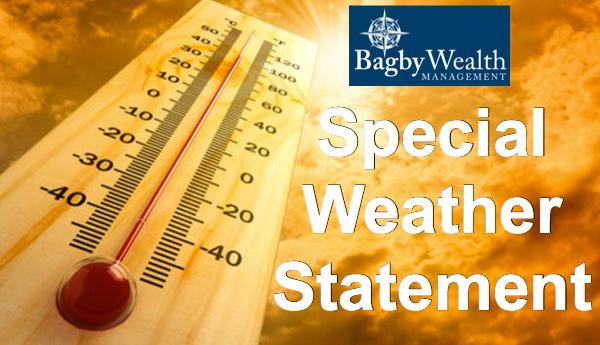 Stoddard County, Missouri - The National Weather Service has issued a Special Weather Statement until 4 a.m. Sunday.
SPECIAL WEATHER STATEMENT UNTIL 4AM CDT SUN
...AFTERNOON HEAT INDICES 100 TO 105 DEGREES SUNDAY AND MONDAY
... HIGH PRESSURE ALOFT WILL BUILD OVER THE REGION THROUGH MONDAY. THIS WILL LEAD TO INCREASING HEAT AND HUMIDITY ACROSS THE QUAD STATE REGION. SOUTHEAST MISSOURI AND SOUTHERN ILLINOIS WILL EXPERIENCE THE WORST CONDITIONS WITH HEAT INDEX VALUES TOPPING OUT FROM 100 TO 105 DEGREES EACH AFTERNOON.
ISOLATED SHOWERS AND THUNDERSTORMS MAY PROVIDE SOME RELIEF FOR A FEW LOCATIONS, BUT MOST OF THIS REGION WILL REMAIN DRY BOTH DAYS. ELSEWHERE, ACROSS SOUTHWEST INDIANA AND WEST KENTUCKY HEAT INDEX VALUES WILL TOP OUT FROM 95 TO 100 DEGREES EACH AFTERNOON. WITH LARGE NUMBERS OF PEOPLE EXPECTED TO BE OUTDOORS SUNDAY THROUGH MONDAY, THE POTENTIAL FOR HEAT RELATED ILLNESS MAY INCREASE, ESPECIALLY FOR THOSE NOT ACCUSTOMED TO THE TYPICAL HEAT AND HUMIDITY OF LATE AUGUST. BE SURE TO DRINK PLENTY OF WATER AND FIND OPPORTUNITIES TO KEEP COOL IN THE SHADE, WHEN POSSIBLE. THE HEAT SHOULD MOVE OUT OF THE AREA LATER ON TUESDAY, AS SHOWERS AND THUNDERSTORMS USHER IN COOLER AIR FOR THE MIDDLE OF NEXT WEEK.
Last Updated on August 19th 2017 by Dee Loflin
https://showmetimes.com/Blogpost/v876/Special-Weather-Statement-Until-4-am-Sunday