ShowMe Weather
August 02nd 2017 by Dee Loflin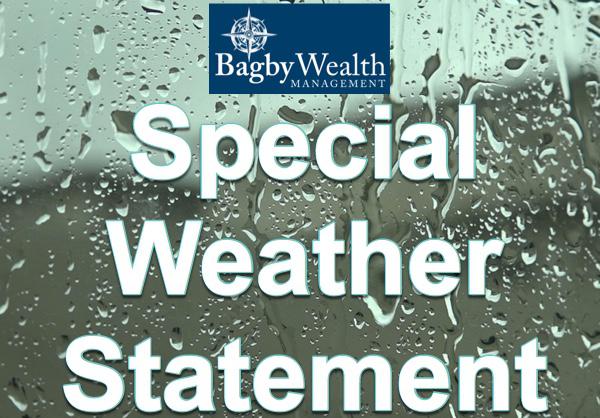 Stoddard County, Missouri - The National Weather Service in Paducah, Kentucky has issued a Special Weather Statement for Stoddard County, Missouri until 6 p.m. Wednesday evening.
SPECIAL WEATHER STATEMENT UNTIL 6PM CDT WED
...A FEW STORMS MAY PRODUCE SMALL HAIL AND GUSTY WINDS THIS AFTERNOON
... AS THE AFTERNOON PROGRESSES, A FEW STORMS ACROSS PARTS OF SOUTHERN ILLINOIS, WEST KENTUCKY, SOUTHWEST INDIANA, AND SOUTHEAST MISSOURI MAY PRODUCE HAIL RANGING FROM ONE QUARTER OF AN INCH TO JUST LESS THAN AN INCH IN SIZE, AS WELL AS ISOLATED WIND GUSTS BETWEEN 40 AND 50 MPH.
THE BEST CHANCES OF SEEING STRONGER STORMS WILL BE ALONG AND NORTH OF A LINE FROM POPLAR BLUFF MISSOURI, ONWARD TO EDDYVILLE ILLINOIS AND GREENVILLE KENTUCKY.
IN ADDITION TO THE HAIL AND WIND GUSTS, BRIEF HEAVY RAIN AND LIGHTNING CAN BE EXPECTED.
THE POTENTIAL FOR HAIL AND GUSTY WINDS SHOULD DIMINISH MARKEDLY AFTER 600 PM CDT

Last Updated on August 02nd 2017 by Dee Loflin
https://showmetimes.com/Blogpost/v81v/Special-Weather-Statement-Until-6-pm-for-Stoddard-County--Storms