ShowMe Weather
July 27th 2017 by Dee Loflin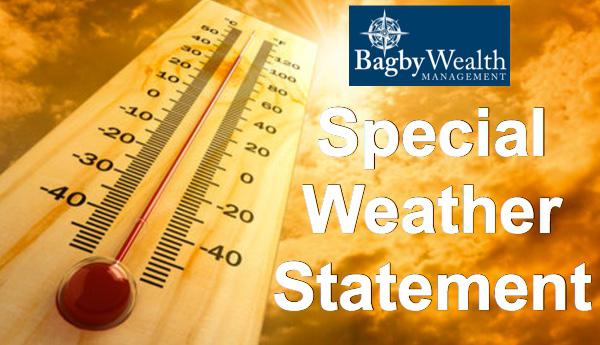 Stoddard County, Missouri - The National Weather Service in Paducah, Kentucky has issued a Special Weather Statement until 6 PM Thursday, July 27th for Stoddard County, Missouri.
SPECIAL WEATHER STATEMENT UNTIL 6PM CDT THU
...HOT AND HUMID TODAY
... MAXIMUM AFTERNOON HEAT INDEX VALUES WILL RANGE FROM 100 TO 105 DEGREES.
THESE CONDITIONS WILL INCREASE THE LIKELIHOOD OF HEAT RELATED ILLNESS IF PRECAUTIONS ARE NOT TAKEN WHEN WORKING OR PARTICIPATING IN ACTIVITIES OUTSIDE.
THUNDERSTORMS MAY DEVELOP BY AFTERNOON, PROVIDING SOME RELIEF. COOLER AND DRIER AIR WILL BEGIN TO FILTER INTO THE REGION FRIDAY.

Last Updated on July 27th 2017 by Dee Loflin
https://showmetimes.com/Blogpost/v800/Another-HOT-Day-Another-Special-Weather-Statement--Heat-Indices-Above-100