ShowMe Weather
August 06th 2017 by Dee Loflin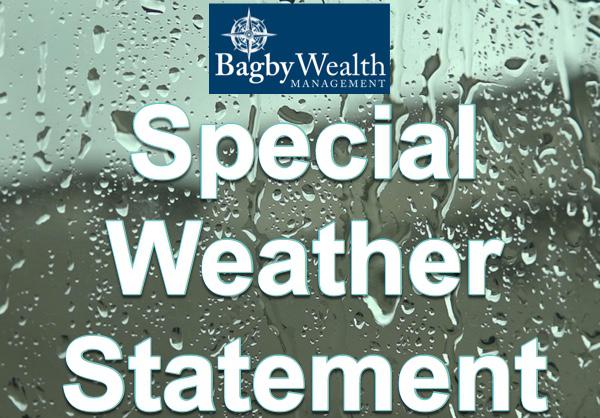 Stoddard County, Missouri - The National Weather Service in Paducah, Kentucky has issued a Special Weather Statement until 6 p.m. Sunday.
SPECIAL WEATHER STATEMENT UNTIL 6PM CDT SUN
...GUSTY WINDS AND LOCALLY HEAVY RAINFALL POSSIBLE WITH THUNDERSTORMS THIS AFTERNOON AND THIS EVENING
... AN AREA OF SURFACE LOW PRESSURE, ALONG WITH AN UPPER LEVEL DISTURBANCE IN NORTHERN ARKANSAS, WILL MOVE ACROSS THE DELTA REGION OF SOUTHEAST MISSOURI THIS AFTERNOON.
THIS AREA OF LOW PRESSURE WILL THEN MOVE ACROSS PARTS OF SOUTHERN PURCHASE AND PENNYRILE REGIONS OF WEST KENTUCKY LATE THIS AFTERNOON AND EARLY THIS EVENING. SOME OF THE THUNDERSTORMS THAT DEVELOP IN THIS AREA MAY BE CAPABLE OF PRODUCING LOCAL WIND GUSTS IN EXCESS OF 40 MPH OR HIGHER, AS WELL AS HEAVY RAINFALL NEAR AN INCH AN HOUR.
THE GUSTY WINDS MAY TOSS AROUND LOOSE OBJECTS OUTDOORS, BREAK TREE LIMBS, OR DOWN SMALL OR WEAKENED TREES. THE HEAVY RAIN MAY CAUSE QUICK RISES OF DITCHES, CREEKS, AND STREAMS TO BANKFULL, AS WELL AS CAUSE MINOR FLOODING OF LOW-LYING AREAS AND ROADWAYS. THE MAIN AREA OF CONCERN FOR STRONGER THUNDERSTORMS IS ALONG AND SOUTH OF A SIKESTON MISSOURI, CALVERT CITY AND GREENVILLE KENTUCKY LINE.
HOWEVER, ISOLATED STRONG WIND GUSTS MAY BE POSSIBLE AS FAR NORTH AS SCOTT CITY MISSOURI, PADUCAH AND MADISONVILLE KENTUCKY THIS AFTERNOON AND TONIGHT. THE THUNDERSTORM ACTIVITY SHOULD DIMINISH MARKEDLY DURING THE LATE EVENING AND OVERNIGHT HOURS.
Last Updated on August 06th 2017 by Dee Loflin
https://showmetimes.com/Blogpost/v82s/Special-Weather-Statement-Issued-Until-6-pm-Sunday