ShowMe Weather
February 05th 2014 by Dee Loflin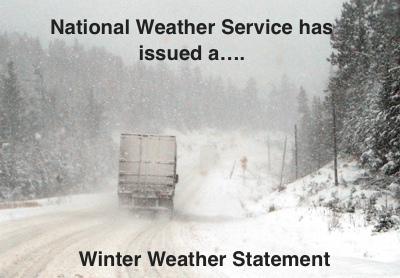 Submitted by
Dee Loflin, SMT Manager/Editor


Stoddard County, Missouri -
The National Weather Service in Paducah, Kentucky has issued a Winter Weather Statement for Stoddard County.
.. HAZARDOUS TRAVEL CONDITIONS EXPECTED THROUGH THE MORNING...
IN THE WAKE OF THE STORM SYSTEM THAT BROUGHT A MIX OF FREEZING RAIN... SLEET... AND SNOW TO THE REGION ON TUESDAY... AREA ROADWAYS RANGE FROM SNOW AND ICE COVERED IN NORTHERN PORTIONS OF THE QUAD STATE REGION TO WET IN SOUTHERN SECTIONS.
AS TEMPERATURES FALL INTO THE 20S THIS MORNING... BLACK ICE MAY FORM ON THE ROADWAYS THAT ARE WET... ESPECIALLY ON BRIDGES AND OVERPASSES. IN ADDITION... INTERMITTENT LIGHT SNOW SHOWERS ARE POSSIBLE THROUGH THE MORNING. THESE MAY BE INTENSE ENOUGH AT TIMES TO REDUCE VISIBILITY AND MAKE CONDITIONS SLIPPERY EVEN ON THOROUGHFARES THAT HAVE ALREADY BEEN CLEARED.
IN LOCATIONS THAT RECEIVED FREEZING RAIN... SIGNIFICANT ICING OF TREES AND POWER LINES HAS ALREADY RESULTED IN NUMEROUS... BUT RELATIVELY CONCENTRATED... POWER OUTAGES. AS NORTHWEST WINDS INCREASE TO 10 TO 15 MPH EARLY THIS MORNING... IT MAY RESULT IN AN INCREASED CHANCE OF MORE SIGNIFICANT POWER OUTAGES.
IF YOU ARE IN AN AREA THAT RECEIVED SIGNIFICANT ICING... KEEP AN EXTRA VIGILANCE AS TO WHAT IS ABOVE YOU IN CASE TREE BRANCHES AND LIMBS BREAK. ALSO IF YOU MUST TRAVEL THIS MORNING... GIVE YOURSELF EXTRA TIME TO REACH YOUR DESTINATION. BE ESPECIALLY CAREFUL WHEN CROSSING BRIDGES... OVERPASSES... AND AT INTERSECTIONS.
Last Updated on February 05th 2014 by Dee Loflin
https://showmetimes.com/Blogpost/uqjf/Winter-Weather-Statement-Issued-for-Stoddard-County