ShowMe Weather
February 03rd 2014 by Dee Loflin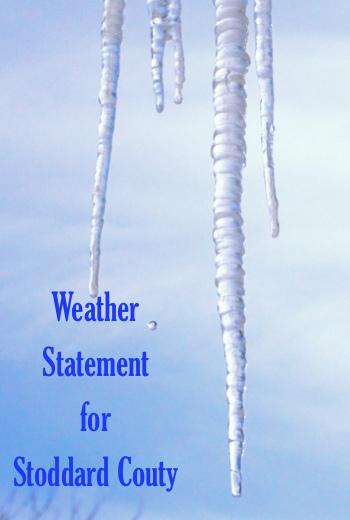 Submitted by
Dee Loflin, SMT Manager/Editor
Stoddard County, Missouri - The National Weather Service in Paducah, Kentucky has issued a Special Weather Statement for Stoddard County.

... MIXED WINTRY PRECIPITATION EXPECTED TUESDAY AND TUESDAY NIGHT...
A STORM SYSTEM CURRENTLY COMING ONSHORE IN THE SOUTHWESTERN UNITED STATES WILL RAPIDLY MOVE NORTHEAST TOWARDS THE QUAD STATE REGION OVER THE NEXT 24 TO 36 HOURS. AS IT APPROACHES... A MIX OF WINTRY PRECIPITATION IS FORECAST TO SPREAD ACROSS THE AREA ON TUESDAY. THE WINTRY MIX WILL BE AT ITS MOST INTENSE TUESDAY AFTERNOON AND EVENING... PRIOR TO TAPERING OFF TUESDAY NIGHT.
AT THIS TIME... THE POTENTIAL EXISTS FOR MODERATE SNOW AND SLEET ACCUMULATIONS OVER NORTHERN PORTIONS OF SOUTHEAST MISSOURI... SOUTHERN ILLINOIS... AND SOUTHWEST INDIANA. FURTHER SOUTH... MORE IN THE WAY OF SLEET AND FREEZING RAIN IS FORECAST ALONG A CORRIDOR FROM ROUGHLY BLOOMFIELD MISSOURI TO VIENNA ILLINOIS TO EVANSVILLE INDIANA. ACROSS MUCH OF WESTERN KENTUCKY SOUTH OF A MAYFIELD TO MADISONVILLE LINE... MAINLY RAIN IS FORECAST THROUGH THE EVENT.
DESPITE THE WARMING TREND IN THE FORECAST MODELS OVER THE LAST SEVERAL DAYS... NEW DATA AVAILABLE OVERNIGHT IS NOW BEGINNING TO LEAN IN A COLDER DIRECTION. COMPLICATING MATTERS IS THE FACT THAT THE STORM RESPONSIBLE FOR THE TUESDAY EVENT WILL NOT ENTER A MORE DENSE OBSERVATION NETWORK UNTIL LATER TODAY AND TONIGHT. A SHIFT IN THE STORM TRACK NORTH OR SOUTH COULD RESULT IN SIGNIFICANT MODIFICATIONS TO THIS FORECAST AS THE EVENT DRAWS CLOSER.
TRAVEL WILL LIKELY BE IMPACTED ACROSS A PART OF THE QUAD STATE REGION ON TUESDAY. CONTINUE TO MONITOR FORECASTS AND STATEMENTS FOR THE LATEST ON THIS UPCOMING WINTER STORM.
Last Updated on February 03rd 2014 by Dee Loflin
https://showmetimes.com/Blogpost/uqir/Special-Weather-Statement--Round-2-Tuesday