ShowMe Weather
February 19th 2018 by Dee Loflin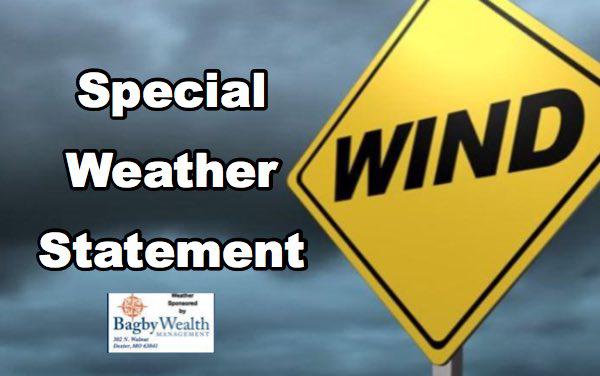 Stoddard County, Missouri - The National Weather Service in Paducah, Kentucky has issued a Special Weather Statement for Stoddard County, Missouri.
SPECIAL WEATHER STATEMENT UNTIL 6:30PM CST MON
...STRONG GUSTY WINDS ARE EXPECTED TO CONTINUE UNTIL NIGHTFALL
... SUSTAINED WINDS THIS AFTERNOON WILL CONTINUE AT 15 TO 25 MPH OUT OF THE SOUTH, WITH GUSTS IN THE 30 TO 40 MPH RANGE, FOR THE REMAINDER OF THE DAYLIGHT HOURS.
ISOLATED GUSTS ABOVE 40 MPH ARE POSSIBLE, ESPECIALLY WHERE CLOUD COVER THINS OUT.
WINDS ARE EXPECTED TO DIMINISH SOMEWHAT AFTER NIGHTFALL, BUT WILL STILL REMAIN GUSTY. EXPECT THESE STRONG WINDS TO IMPACT AREA TRAVEL AND OUTDOOR WORK, SO BE ADVISED, ESPECIALLY IF DRIVING A HIGH PROFILE VEHICLE.
MOBILE HOMES AND CONSTRUCTION SITES WILL FEEL THE IMPACT OF THESE WINDS AND GUSTS. ALSO ON AREA LAKES, THE SOUTHERN ORIENTATION OF THE WIND WILL CREATE ESPECIALLY CHOPPY CONDITIONS FOR NORTH TO SOUTH RUNNING LAKES, LIKE REND LAKE, BARKLEY AND KENTUCKY LAKES, AS WELL AS OTHER LAKES AND RIVERS.
Weather provided by Bagby Wealth Management, a sponsor of the ShowMe Times.
Last Updated on February 19th 2018 by Dee Loflin
https://showmetimes.com/Blogpost/v9r5/Special-Weather-Statement--Strong-Winds-Until-630-pm