ShowMe Weather
February 06th 2018 by Dee Loflin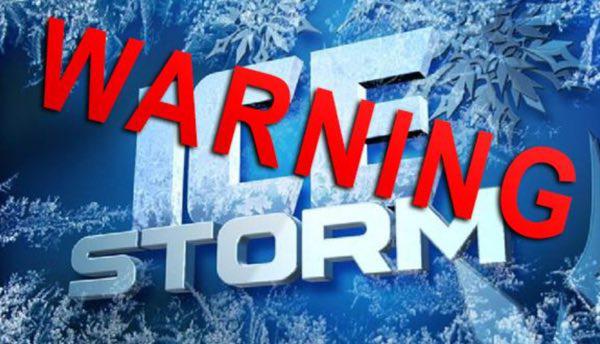 Stoddard County, Missouri - The National Weather Service in Paducah, Kentucky has issued an Ice Storm Warning for Stoddard County, Missouri.
...ICE STORM WARNING IN EFFECT UNTIL 6 AM CST WEDNESDAY
... * WHAT...SIGNIFICANT ICING EXPECTED. TOTAL ICE ACCUMULATIONS OF TWO TENTHS TO THREE TENTHS OF AN INCH ARE EXPECTED. SOME SLEET IS POSSIBLE AS WELL.
* WHERE...IN MISSOURI, RIPLEY, BUTLER, STODDARD AND SCOTT COUNTIES. IN ILLINOIS, ALEXANDER COUNTY. * WHEN...UNTIL 6 AM CST WEDNESDAY. * ADDITIONAL DETAILS
...ISOLATED POWER OUTAGES AND TREE DAMAGE ARE LIKELY DUE TO THE ICE.
TRAVEL WILL BE DANGEROUS. WINDS WILL INCREASE TO AROUND 15 MPH TOWARD SUNRISE, WHICH COULD HELP TO BRING DOWN ICE-LADEN BRANCHES. PRECAUTIONARY/PREPAREDNESS ACTIONS
... AN ICE STORM WARNING MEANS SIGNIFICANT AMOUNTS OF ICE ACCUMULATION WILL MAKE TRAVEL DANGEROUS. TRAVEL IS STRONGLY DISCOURAGED.
IF YOU MUST TRAVEL, KEEP AN EXTRA FLASHLIGHT, FOOD AND WATER IN YOUR VEHICLE IN CASE OF AN EMERGENCY. SNAPPED POWER LINES AND FALLING TREE BRANCHES ARE ALSO POSSIBLE. THE LATEST ROAD CONDITIONS FOR THE STATE YOU ARE CALLING FROM CAN BE OBTAINED BY CALLING 5 1 1. &&

Last Updated on February 06th 2018 by Dee Loflin
https://showmetimes.com/Blogpost/v9nl/Ice-Storm-Warning-Issued-for-Stoddard-County