ShowMe Weather
February 15th 2018 by Dee Loflin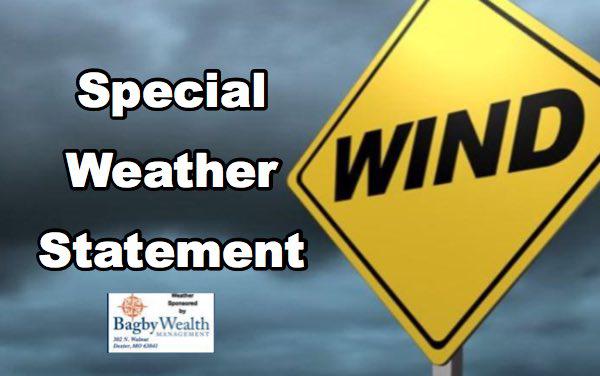 Stoddard County, Missouri - The National Weather Service in Paducah, Kentucky has issued a Special Weather Statement for Stoddard County, Missouri.
SPECIAL WEATHER STATEMENT UNTIL 7PM CST THU
...STRONG GUSTY WINDS CONTINUE UNTIL NIGHTFALL
... WINDS WILL AVERAGE 15 TO 30 MPH OUT OF THE SOUTH OR SOUTHWEST, AND GUSTS WILL FOR THE MOST PART, BE IN THE 30 TO 40 MPH RANGE, FOR THE REMAINDER OF THE DAY.
HOWEVER, THERE MAY BE AN ISOLATED EXCEPTION OR TWO, WHERE A GUST COULD BE AS HIGH AS 45 MPH OR MORE.
THIS WILL OCCUR WHERE THE CLOUDS BREAK TO FULL SUNSHINE, AND SHOULD BE AN INSTANTANEOUS OR SHORT LIVED GUST THAT AVERAGES ABOUT 10 MPH HIGHER THAN MOST GUSTS.
THESE STRONG WINDS AND GUSTS WILL CONTINUE INTO EARLY THIS EVENING, BEFORE DIMINISHING OFF THEIR PEAKS WITH THE SETTING SUN. EXPECT THESE STRONG WINDS TO IMPACT AREA TRAVEL AND OUTDOOR WORK, SO BE ADVISED, ESPECIALLY IF DRIVING A HIGH PROFILE VEHICLE. MOBILE HOMES AND CONSTRUCTION SITES WILL FEEL THE IMPACT OF THESE WINDS AND GUSTS. ALSO ON AREA LAKES, THE SOUTHERN ORIENTATION OF THE WIND WILL CREATE ESPECIALLY CHOPPY WAVE HEIGHTS FOR NORTH TO SOUTH RUNNING LAKES, LIKE BARKLEY AND KENTUCKY, AS WELL AS ALL BODIES OF WATER, RIVERS AND LAKES ALIKE.
Weather provided by Bagby Wealth Management, a sponsor of the ShowMe Times.
Last Updated on February 15th 2018 by Dee Loflin
https://showmetimes.com/Blogpost/v9qh/Special-Weather-Statement-Until-7-pm--Strong-Gusty-Winds