ShowMe Weather
February 05th 2018 by Dee Loflin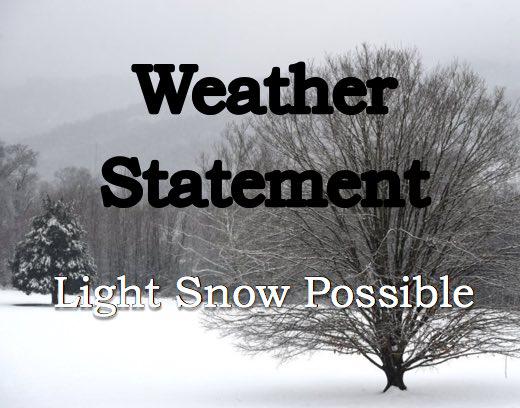 Stoddard County, Missouri - The National Weather Service i Paducah, Kentucky has issued a Special Weather Statement for Stoddard County, Missouri.
SPECIAL WEATHER STATEMENT UNTIL 4PM CST MON
...WINTRY PRECIPITATION MAY CAUSE TRAVEL IMPACTS TUESDAY NIGHT INTO EARLY WEDNESDAY MORNING
... PRECIPITATION IS EXPECTED TO SPREAD NORTHEAST ACROSS THE REGION LATE TUESDAY AFTERNOON INTO THE EVENING HOURS.
THE HEAVIEST PRECIPITATION IS EXPECTED NEAR A FRONTAL BOUNDARY OVER NORTHERN TENNESSEE, BUT IT IS UNCERTAIN HOW FAR NORTH ACROSS OUR REGION THE PRECIPITATION WILL SPREAD. AT THIS TIME, IT APPEARS THAT THE ZONE FROM CAPE GIRARDEAU MISSOURI TO EVANSVILLE INDIANA IS THE MOST LIKELY REGION TO RECEIVE SIGNIFICANT PRECIPITATION WITH TEMPERATURES BELOW FREEZING.
AREAS FARTHER TO THE NORTH WILL NOT SEE MUCH PRECIPITATION, WHILE AREAS FARTHER SOUTH WILL LIKELY REMAIN ABOVE FREEZING FOR MOST OF THE EVENT. SOME SNOW IS LIKELY AS THE PRECIPITATION DEVELOPS TUESDAY EVENING, BUT IT WILL TRANSITION TO FREEZING RAIN BEFORE COMING TO AN END IN THE PRE-DAWN HOURS WEDNESDAY.
AT THIS TIME,THE POTENTIAL EXISTS FOR UP TO 2 INCHES OF SNOW AND OR 2 TENTHS OF AN INCH OF ICING IN THE AREA NORTH AND WEST OF A HICKMAN TO CALHOUN KENTUCKY LINE. PLEASE STAY ABREAST OF THE LATEST FORECASTS FOR THIS DEVELOPING WEATHER EVENT AND BE PREPARED TO ALTER PLANS WHERE POSSIBLE.
Weather provided by Bagby Wealth Management!
Last Updated on February 05th 2018 by Dee Loflin
https://showmetimes.com/Blogpost/v9n9/More-Precipitation-on-the-Way--Special-Weather-Statement