ShowMe Weather
January 16th 2018 by Dee Loflin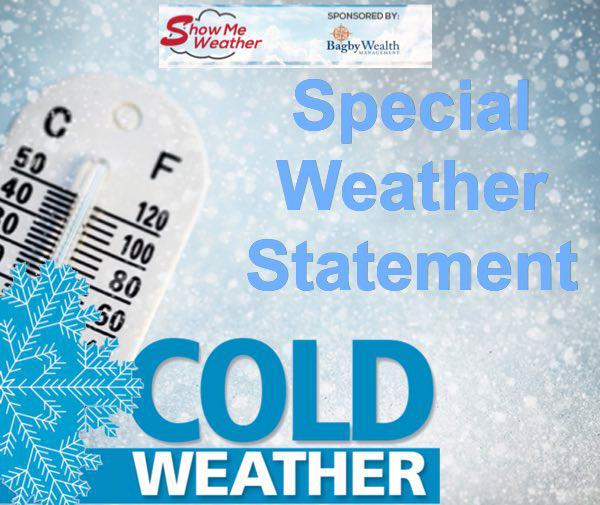 Stoddard County, Missouri - The National Weather Service has issued a Special Weather Statement until 1 p.m. Tuesday for Stoddard County, Missouri.
SPECIAL WEATHER STATEMENT UNTIL 1PM CST TUE
...WIND CHILLS WILL CONTINUE TO MAKE IT UNCOMFORTABLE TODAY
... TEMPERATURES CLIMBING THROUGH THE SINGLE DIGITS INTO THE TEENS, COMBINED WITH NORTHWEST WINDS AT 6 TO 12 MPH, WILL PRODUCE WIND CHILL READINGS OF 5 ABOVE TO NEAR 10 BELOW ZERO TODAY.
THESE CONDITIONS WILL NOT ONLY BE VERY UNCOMFORTABLE, BUT IT WILL MAKE IT DIFFICULT FOR ROAD CREWS TO TREAT AND CLEAR AREA ROADWAYS.
PEOPLE NEED TO BE VERY CAUTIOUS WHEN TRAVELING, AND WEAR PLENTY OF WARM CLOTHING WHEN VENTURING OUTSIDE.
WINDS WILL DROP OFF A LITTLE BY THIS EVENING, BUT WITH LOWS IN THE SINGLE DIGITS, WIND CHILL READINGS OVERNIGHT WILL BE IN THE ZERO TO 10 BELOW ZERO RANGE.

Last Updated on January 16th 2018 by Dee Loflin
https://showmetimes.com/Blogpost/v9hh/Special-Weather-Statement--Cold-Temps-Make-Roads-Difficult-to-Clear