ShowMe Weather
February 01st 2018 by Dee Loflin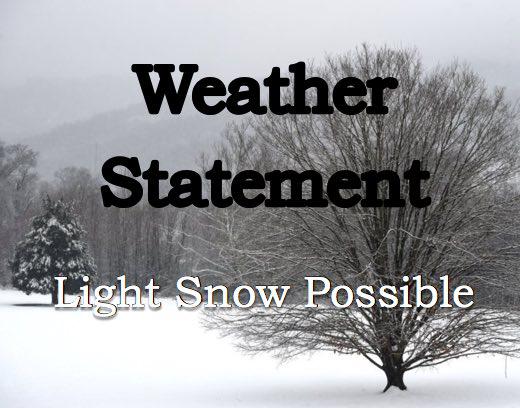 Stoddard County, Missouri - The National Weather Service in Paducah, Kentucky has issued a Special Weather Statement for Stoddard County, Missouri.
SPECIAL WEATHER STATEMENT UNTIL 4:45PM CST THU
...QUICK DUSTING OF SNOWFALL POSSIBLE
... AS COLD AIR COMES IN FAST AND HARD BEHIND A COLD FRONT, IT IS POSSIBLE THAT SOME LOCATIONS ACROSS THE AREA MAY SEE A QUICK DUSTING OF SNOWFALL, AS PATCHY LIGHT RAIN AND DRIZZLE CHANGES OVER TO LIGHT SNOW AND FLURRIES BEFORE ENDING THIS AFTERNOON.
THIS WILL BE MAINLY ALONG AND JUST SOUTH OF THE INTERSTATE 64 CORRIDOR, IN PARTS OF SOUTHERN ILLINOIS, SOUTHWEST INDIANA, AND NORTHWEST KENTUCKY, WHERE ANY SUCH DUSTINGS MAY OCCUR.
AND THIS LOOKS TO BE BE MAINLY ON GRASSY SURFACES, AND WILL LIKELY MELT FAIRLY QUICKLY, WITH LOW IMPACTS OVERALL.
Weather provided by Bagby Wealth Management.
Last Updated on February 01st 2018 by Dee Loflin
https://showmetimes.com/Blogpost/v9mh/Quick-Dusting-of-Snow-Possible