ShowMe Weather
December 29th 2017 by Dee Loflin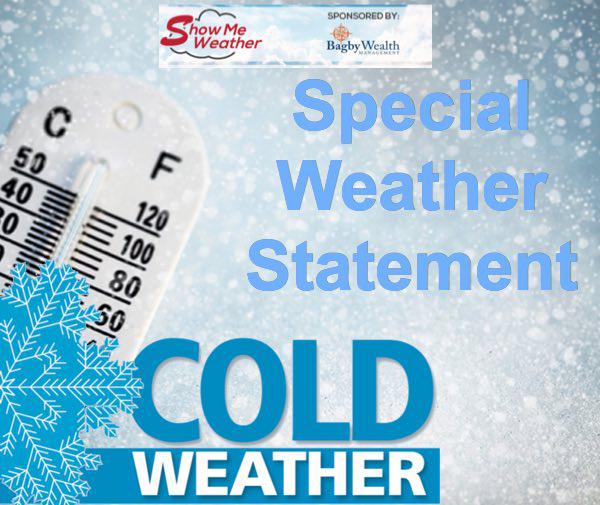 Stoddard County, Missouri - The National Weather Service in Paducah, Kentucky has issued a Special Weather Statement for Stoddard County, Missouri. Extreme cold temperatures this weekend through Tuesday.
... VERY COLD CONDITIONS ARE LIKELY FROM NEW YEAR'S EVE THROUGH TUESDAY
... BITTERLY COLD AIR WILL PUSH SOUTH INTO THE REGION THIS WEEKEND AND LAST THROUGH TUESDAY. VERY COLD TEMPERATURES COMBINED WITH STEADY NORTH TO NORTHWEST WINDS WILL RESULT IN DANGEROUSLY COLD WIND CHILL TEMPERATURES SATURDAY NIGHT THROUGH MONDAY NIGHT.
WIND CHILL TEMPERATURES FROM 0 TO 15 BELOW ZERO WILL BE COMMON, WITH THE COLDEST WIND CHILL TEMPERATURES EARLY NEW YEAR'S DAY MORNING.
WIND CHILL TEMPERATURES DURING THE DAY WILL GENERALLY BE IN THE SINGLE DIGITS TO JUST BELOW ZERO.
DUE TO THE EXTENDED COLD SNAP, PLAN TO REDUCE TIME SPENT OUTDOORS SUNDAY THROUGH TUESDAY, INCLUDING NEW YEAR'S DAY.
THESE CONDITIONS WILL INCREASE THE LIKELIHOOD OF HYPOTHERMIA AND FROST BITE.
ADVERSE IMPACTS TO INFRASTRUCTURE, SUCH AS PLUMBING, ARE LIKELY IF ADEQUATE STEPS ARE NOT TAKEN TO INSULATE EXPOSED PIPES.
CHECK ON THE ELDERLY, AND BE SURE TO MAKE ARRANGEMENTS FOR OUTDOOR PETS DURING THIS TIME OF VERY COLD WEATHER.
Weather provided by Bagby Wealth Management.
Last Updated on December 29th 2017 by Dee Loflin
https://showmetimes.com/Blogpost/v9df/Extremely-Cold-Temperatures-Entering-the-Heartland