ShowMe Weather
December 11th 2017 by Dee Loflin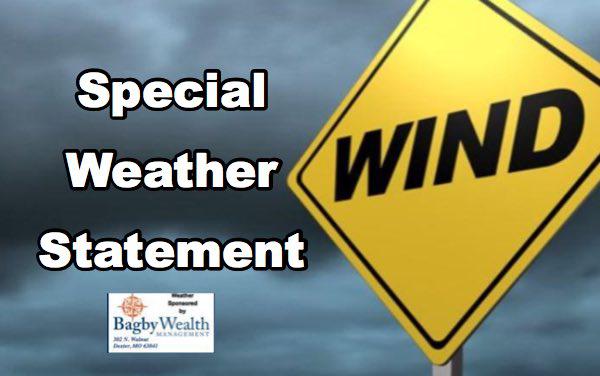 Stoddard County, Missouri - Weather provided by Bagby Wealth Management - The National Weather Service in Paducah, Kentucky has issued a Special Weather Statement.
... STRONG GUSTY WINDS DEVELOPING BEHIND A COLD FRONT TONIGHT.
.. NORTHWEST WINDS HAVE INCREASED TO 20 TO 30 MPH WITH GUSTS AROUND 40 MPH ACROSS PARTS OF MISSOURI.
THESE STRONG WINDS ARE OCCURRING BEHIND A COLD FRONT, WHICH WILL CROSS THE LOWER OHIO VALLEY THIS EVENING.
AS THE FRONT PASSES THIS EVENING, EXPECT GUSTY NORTHWEST WINDS TO DEVELOP AND PERSIST FOR SEVERAL HOURS.
SOME LOCATIONS MAY EXPERIENCE GUSTS TO 40 MPH.
THIS WILL CAUSE SOME LOOSE OBJECTS TO BLOW AROUND, SUCH AS CHRISTMAS DECORATIONS. MOTORISTS MAY FIND VEHICLES DIFFICULT TO HANDLE, ESPECIALLY IN OPEN AREAS EXPOSED TO THE WIND.

Last Updated on December 11th 2017 by Dee Loflin
https://showmetimes.com/Blogpost/v98h/Special-Weather-Statement-Issued-for-High-Winds