ShowMe Weather
December 13th 2017 by Dee Loflin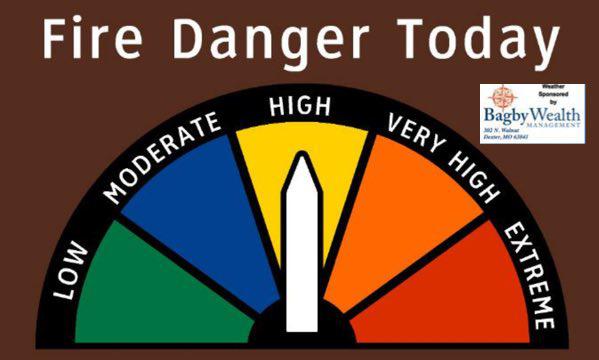 Stoddard County, Missouri - The National Weather Service has issued a Special Weather Statement until 4 p.m. Wednesday. Weather sponsored by Bagby Wealth Management.
SPECIAL WEATHER STATEMENT UNTIL 4PM CST WED
...ELEVATED FIRE DANGER TODAY
... THE COMBINATION OF STRONG GUSTY WINDS AND DRY VEGETATION WILL RESULT IN AN ELEVATED FIRE DANGER TODAY ACROSS THE QUAD STATE REGION. RELATIVE HUMIDITY WILL ALSO BE QUITE LOW AND MAY EVEN APPROACH RED FLAG CRITERIA THIS AFTERNOON, PARTICULARLY OVER THE OZARK FOOTHILLS OF SOUTHEAST MISSOURI.
THESE WEATHER CONDITIONS ALONG WITH VERY DRY GRASSES AND UNDERBRUSH COULD RESULT IN THE RAPID SPREAD OF FIRES. BURN BANS ARE IN EFFECT FOR SOME COUNTIES AND OUTDOOR BURNING IS HIGHLY DISCOURAGED ACROSS THE REGION. CHECK WITH LOCAL AUTHORITIES FOR THE LATEST ON AREA BURN BANS.
CONDITIONS SHOULD IMPROVE SIGNIFICANTLY BY SUNSET AS WINDS SLACKEN AND HUMIDITY RECOVERS.

Last Updated on December 13th 2017 by Dee Loflin
https://showmetimes.com/Blogpost/v98r/Special-Weather-Statement--Elevated-Fire-Danger-Today