ShowMe Weather
March 27th 2015 by Dee Loflin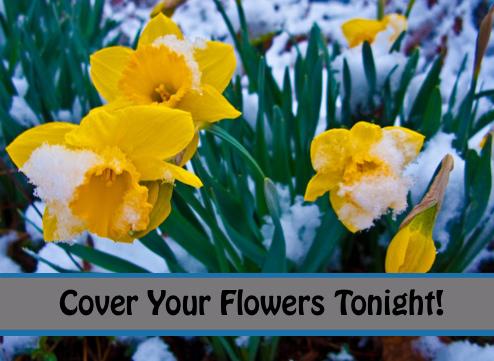 Stoddard County, Missouri -
The National Weather Service in Paducah, Kentucky has issued a Special Weather Statement for our area.
... BELOW FREEZING TEMPERATURES MAY IMPACT EARLY GROWING VEGETATION THIS WEEKEND...
THE MAJORITY OF PLANTS... VINES AND FRUIT TREES STILL REMAIN IN THE VERY EARLY BUDDING STAGES... SO THE BELOW FREEZING TEMPERATURES THIS WEEKEND WILL NOT HAVE A SIGNIFICANT IMPACT ON THESE TYPES OF VEGETATION.
HOWEVER... THE GROWTH OF SOME RESIDENTIAL PLANTS AND FLOWERS HAVE BEEN ACCELERATED BY THE RECENT SPELL OF WARM DAYS EARLIER THIS WEEK. ALTHOUGH THESE PLANTS ARE RATHER HARDY AND CAN WITHSTAND TEMPERATURES IN THE 20S FOR SEVERAL HOURS... TEMPERATURES IN THE UPPER 20S TO LOWER 30S ARE EXPECTED WEST OF THE MISSISSIPPI RIVER... COVERING PARTS OF SOUTHEAST MISSOURI.
THERE WILL BE A CHANCE OF SNOW LATE TONIGHT OVER PARTS OF SOUTHEAST MISSOURI. ANY ACCUMULATION OF SNOW IS EXPECTED TO REMAIN LESS THAN A HALF AN INCH AT MOST. THE SNOW WILL ACTUALLY SERVE TO INSULATE OUTDOOR PLANTS FROM THE MOST SEVERE ASPECTS OF THE COLD TEMPERATURES.
TEMPERATURES TONIGHT ARE NOT EXPECTED TO FALL BELOW FREEZING UNTIL AFTER 4 AM CDT SATURDAY MORNING... BUT COULD REMAIN BELOW FREEZING UNTIL 10 AM CDT SATURDAY MORNING.
ON SATURDAY NIGHT... TEMPERATURES WILL LIKELY FALL BELOW FREEZING AROUND 5 AM CDT SUNDAY MORNING... RISING ABOVE THE FREEZING MARK AROUND 8 AM CDT SUNDAY MORNING.
IF YOU HAVE CONCERN ABOUT PROTECTING YOUR OWN PLANTS AND FLOWERS... THEN YOU STILL HAVE TIME TO COVER THEM UP EARLY THIS EVENING.
ABOVE FREEZING TEMPERATURES SHOULD BE THE RULE FROM SUNDAY NIGHT AND THROUGHOUT NEXT WEEK.
Last Updated on March 27th 2015 by Dee Loflin
https://showmetimes.com/Blogpost/uton/Spring-Snow-and-Below-Freezing-Temperatures-Are-Possible