ShowMe Weather
March 02nd 2015 by Dee Loflin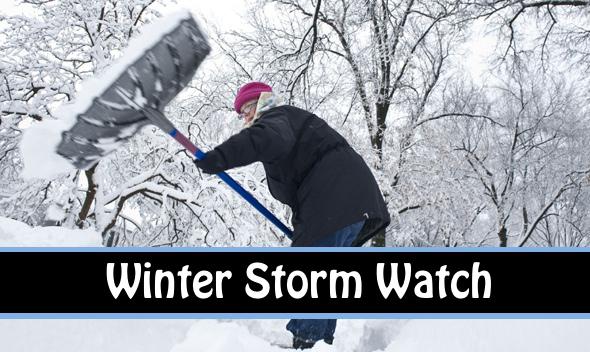 Stoddard County, Missouri -
The National Weather Service in Paducah, Kentucky has issued a Winter Storm Watch for Wednesday morning through late Wednesday night.
Issued by The National Weather Service
Paducah, KY
Mon, Mar 2, 3:22 pm CST
... WINTER STORM WATCH IN EFFECT FROM WEDNESDAY MORNING THROUGH LATE WEDNESDAY NIGHT...
THE NATIONAL WEATHER SERVICE IN PADUCAH HAS ISSUED A WINTER STORM WATCH... WHICH IS IN EFFECT FROM WEDNESDAY MORNING THROUGH LATE WEDNESDAY NIGHT.
* TIMING: RAIN SHOULD BEGIN CHANGING OVER TO SLEET AND SNOW FROM NORTHWEST TO SOUTHEAST STARTING EARLY WEDNESDAY MORNING. ACCUMULATING SNOWFALL SHOULD CONTINUE THROUGH EARLY THURSDAY MORNING WITH THE HIGHEST ACCUMULATIONS EXPECTED WEDNESDAY AFTERNOON AND EVENING.
* MAIN IMPACT: BY EARLY THURSDAY MORNING SNOWFALL TOTALS ARE EXPECTED TO RANGE FROM FOUR TO SIX INCHES GENERALLY NORTH AND WEST OF A LINE FROM ROCKPORT INDIANA TO DEXTER MISSOURI WITH SIX TO TEN INCHES POSSIBLE SOUTH AND EAST OF THAT LINE.
* OTHER IMPACTS: THIS MUCH SNOWFALL WILL CAUSE NUMEROUS TRAVEL ISSUES ACROSS THE REGION. PERSONS IN THESE AREAS SHOULD MAKE PREPARATIONS NOW FOR THIS UPCOMING WINTER STORM AND STAY TUNED FOR UPDATES AND THE POSSIBLE UPGRADE TO A WINTER STORM WARNING.
PRECAUTIONARY/PREPAREDNESS ACTIONS...
A WINTER STORM WATCH MEANS THERE IS A POTENTIAL FOR SIGNIFICANT SNOW... SLEET... OR ICE ACCUMULATIONS THAT WOULD GREATLY IMPACT TRAVEL. STAY TUNED FOR LATER STATEMENTS. THIS WATCH WILL BE UPGRADED TO A WARNING IF WINTER STORM CONDITIONS BECOME MORE CERTAIN.
Last Updated on March 02nd 2015 by Dee Loflin
https://showmetimes.com/Blogpost/utl7/Winter-Storm-Watch-Issued-by-National-Weather-Service