ShowMe Weather
March 03rd 2015 by Dee Loflin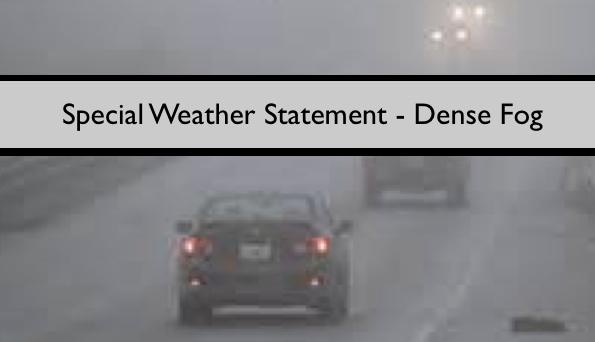 Stoddard County, Missouri -
The National Weather Service in Paducah, Kentucky has issued a Special Weather Statement....DENSE FOG!
Issued by The National Weather Service
Paducah, KY
Tue, Mar 3, 7:27 pm CST
... LOCALLY DENSE FOG WILL CONTINUE THIS EVENING...
THOSE OF YOU TRAVELING THROUGH THE QUAD STATE REGION WILL CONTINUE TO EXPERIENCE RAPID CHANGES IN VISIBILITY DUE TO AREAS OF DENSE FOG THIS EVENING.
WARM SOUTHERLY BREEZES ARE BRINGING ABOVE NORMAL TEMPERATURES TO THE REGION. THIS WARM AIR IS MOVING OVER THE RELATIVELY COLD GROUND. THIS IS CAUSING THE AIR NEAR THE SURFACE TO BECOME QUITE SATURATED... LEADING TO THE DEVELOPMENT OF FOG. THE FOG WILL BE LOCALLY DENSE AT TIMES AND MAY VARY RAPIDLY FROM ONE LOCATION TO ANOTHER.
BE PREPARED FOR RAPID CHANGES IN VISIBILITY WHILE YOU ARE DRIVING ON ROADWAYS. MAKE SURE THAT YOU KEEP YOUR HEADLIGHTS ON LOW... SIGNAL YOUR INTENTIONS WELL AHEAD OF TIME... SLOW DOWN AND LEAVE PLENTY OF ROOM BETWEEN YOURSELF AND OTHER DRIVERS ON THE ROAD.
AS RAIN CONTINUES TO OVERSPREAD THE REGION... VISIBILITIES DUE TO THE FOG WILL LIKELY IMPROVE SOME. DRIVERS WILL THEN NEED TO BE WATCHFUL FOR PONDING OF WATER ON ROADWAYS AND LOW LYING AREAS.
Last Updated on March 03rd 2015 by Dee Loflin
https://showmetimes.com/Blogpost/utlc/Special-Weather-Statement--Dense-Fog