ShowMe Weather
February 14th 2015 by Dee Loflin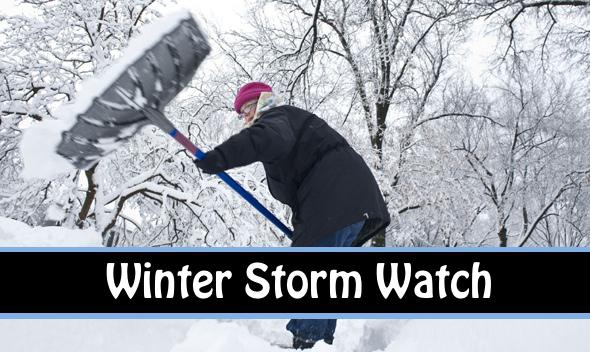 Stoddard County, Missouri -
The National Weather Service in Paducah, Kentucky has issued a Winter Storm Watch.
... WINTER STORM WATCH IN EFFECT FROM SUNDAY AFTERNOON THROUGH MONDAY MORNING...
THE NATIONAL WEATHER SERVICE IN PADUCAH HAS ISSUED A WINTER STORM WATCH... WHICH IS IN EFFECT FROM SUNDAY AFTERNOON THROUGH MONDAY MORNING.
THE WINTER STORM WATCH IS FOR AREAS GENERALLY ALONG AND SOUTH OF A LINE FROM CARBONDALE ILLINOIS TO MADISONVILLE KENTUCKY. THIS INCLUDES ALL OF SOUTHEAST MISSOURI... AND MOST OF WESTERN KENTUCKY SOUTH OF THE HENDERSON AND OWENSBORO AREAS.
* ACCUMULATIONS: THERE IS THE POTENTIAL FOR HEAVY SNOWFALL IN THE WATCH AREA. IN OUR REGION... HEAVY SNOWFALL IS DEFINED AS 4 INCHES OR MORE IN 12 HOURS... OR 6 INCHES IN 24 HOURS.
* TIMING: SNOW WILL OVERSPREAD MOST OF SOUTHEAST MISSOURI DURING SUNDAY AFTERNOON. THE SNOW MAY NOT REACH WESTERN KENTUCKY AND FAR SOUTHERN ILLINOIS UNTIL SUNDAY EVENING. THE STEADIEST AND HEAVIEST SNOW WILL OCCUR SUNDAY NIGHT. SNOW WILL TAPER OFF FROM WEST TO EAST ON MONDAY MORNING.
* MAIN IMPACT: TRAVEL WILL LIKELY BECOME HAZARDOUS. VERY COLD TEMPERATURES IN THE UPPER TEENS TO LOWER 20S WILL CONTRIBUTE TO HAZARDOUS CONDITIONS. THE MONDAY MORNING COMMUTE WILL BE HEAVILY IMPACTED BY THIS SNOWSTORM.
PRECAUTIONARY/PREPAREDNESS ACTIONS...
A WINTER STORM WATCH MEANS THERE IS A POTENTIAL FOR SIGNIFICANT SNOW... SLEET... OR ICE ACCUMULATIONS THAT WOULD GREATLY IMPACT TRAVEL. STAY TUNED FOR LATER STATEMENTS. THIS WATCH WILL BE UPGRADED TO A WARNING IF WINTER STORM CONDITIONS BECOME MORE CERTAIN.
Last Updated on February 14th 2015 by Dee Loflin
https://showmetimes.com/Blogpost/utij/Winter-Storm-Watch-Issued-by-National-Weather-Service