ShowMe Weather
January 07th 2015 by Dee Loflin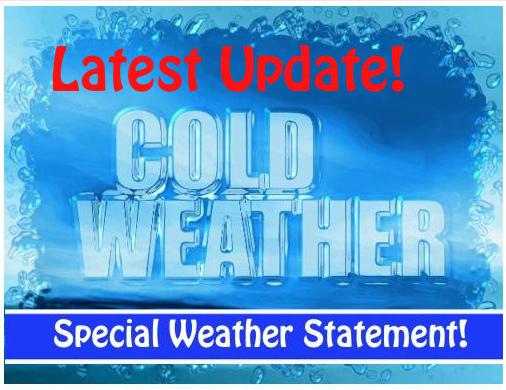 Stoddard County, Missouri -
An update by the National Weather Service in Paducah, Kentucky to an earlier Special Weather Statement!!!
.. BRUTALLY COLD WIND CHILLS EXPECTED WEDNESDAY...
AN EXTREMELY COLD AREA OF ARCTIC HIGH PRESSURE WILL SURGE SOUTHEAST ACROSS THE REGION WEDNESDAY. NORTHWEST WINDS AT 15 TO 25 MPH WILL GUST TO 35 MPH AT TIMES... AND TEMPERATURES WILL FALL THROUGH THE TEENS AND EVEN INTO THE SINGLE DIGITS IN SOME LOCATIONS BY LATE AFTERNOON. WIND CHILLS WILL DROP INTO THE ZERO TO 10 BELOW ZERO RANGE THROUGHOUT THE AREA DURING THE AFTERNOON.
WINDS WILL DIE OFF OVERNIGHT WEDNESDAY NIGHT... WHICH WILL ALLOW TEMPERATURES TO PLUMMET INTO THE ZERO TO 5 ABOVE RANGE. SOME LOCATIONS MAY EVEN DROP A BIT BELOW ZERO. SOUTH WINDS WILL INCREASE AND BECOME GUSTY QUICKLY THURSDAY MORNING... SO WIND CHILLS WILL DROP BACK BELOW ZERO FOR A FEW HOURS BEFORE MIDDAY. TEMPERATURES ARE EXPECTED TO WARM UP INTO THE TEENS IN THE AFTERNOON... WHICH SHOULD KEEP WIND CHILLS IN THE SINGLE DIGITS ABOVE ZERO. THESE CONDITIONS ARE LIKELY TO CONTINUE THROUGH THURSDAY NIGHT AND INTO FRIDAY.
EVERYONE IS STRONGLY ENCOURAGED TO LIMIT OUTDOOR ACTIVITIES WEDNESDAY THROUGH FRIDAY. TAKE PRECAUTIONS TO PREVENT DAMAGE TO WATER LINES. STRONG WINDS DURING THE EXTREME COLD SNAP CAN DIRECT THE FRIGID AIR INTO POORLY INSULATED AREAS MORE EFFICIENTLY AND RESULT IN DAMAGE TO PIPES. ALSO MAKE SURE ANY OUTDOOR PETS HAVE WARM SHELTER AND AN UNFROZEN WATER SUPPLY.
Last Updated on January 07th 2015 by Dee Loflin
https://showmetimes.com/Blogpost/utcb/Brutally-Cold-Wind-Chill-Expected-Wednesday