ShowMe Weather
February 14th 2015 by Dee Loflin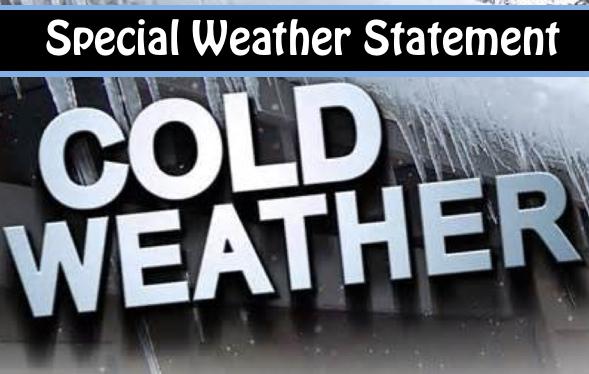 Stoddard County, Missouri -
The National Weather Service in Paducah, Kentucky has issued another Special Weather Statement.
... GUSTY NORTH WINDS BRINGING AN ARCTIC CHILL...
A STRONG COLD FRONT MOVED SOUTH ACROSS OUR REGION TODAY. IN ITS WAKE... STRONG NORTH TO NORTHWEST WINDS WILL BRING MUCH COLDER AIR FOR TONIGHT AND SUNDAY.
WIND CHILLS WILL FALL BELOW ZERO TONIGHT. THE COLDEST WIND CHILL READINGS ARE EXPECTED EARLY SUNDAY MORNING... WHEN AVERAGE WIND CHILL VALUES SHOULD BE AROUND 5 BELOW ZERO. ACTUAL LOW TEMPERATURES WILL BE IN THE SINGLE DIGITS ABOVE ZERO IN MANY AREAS... EXCEPT 10 TO 15 IN PARTS OF SOUTHEAST MISSOURI.
SNOW WILL SPREAD EAST ACROSS OUR REGION SUNDAY AFTERNOON AND EVENING. AT THIS TIME... A LIGHT SNOWFALL IS EXPECTED ACROSS SOUTHWEST INDIANA... THE INTERSTATE 64 CORRIDOR OF SOUTHERN ILLINOIS... AND THE HENDERSON AND OWENSBORO AREAS OF WEST KENTUCKY. HEAVIER AMOUNTS ARE POSSIBLE FURTHER SOUTH. THE SNOW WILL END MONDAY MORNING... FOLLOWED BY A CONTINUATION OF UNSEASONABLY COLD CONDITIONS.
TAKE THE PROPER PRECAUTIONS IF YOU VENTURE OUTDOORS THE NEXT FEW DAYS.
Last Updated on February 14th 2015 by Dee Loflin
https://showmetimes.com/Blogpost/utii/Special-Weather-Statement--Gusty-North-Winds-Cold-Temps