ShowMe Weather
February 13th 2015 by Dee Loflin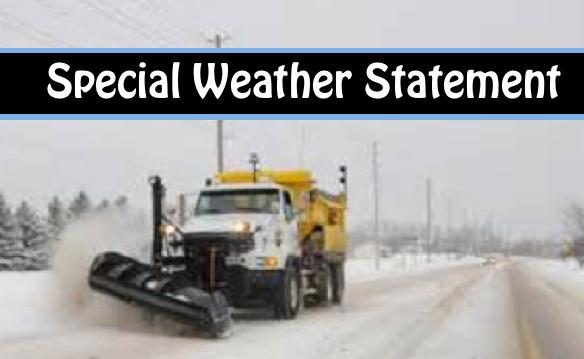 Stoddard County, Missouri - The National Weather Service in Paducah, Kentucky has issued a Special Weather Statement.
... SNOW LIKELY FROM LATE SUNDAY THROUGH EARLY MONDAY MORNING...
A STORM SYSTEM IS STILL FORECAST TO MOVE ACROSS THE AREA SUNDAY NIGHT. IT WILL LIKELY BRING ACCUMULATING SNOW TO MOST OF THE AREA.
SNOW SHOULD DEVELOP SUNDAY AFTERNOON AND SPREAD EAST AND SOUTHEAST ACROSS PORTIONS OF SOUTHEAST MISSOURI... SOUTHERN ILLINOIS AND WESTERN KENTUCKY THROUGH SUNSET. SNOW WILL EXPAND ACROSS THE AREA SUNDAY NIGHT. MODERATE ACCUMULATIONS OF SNOW CANNOT BE RULED OUT ESPECIALLY SOUTH OF A LINE FROM CARBONDALE ILLINOIS TO CALHOUN KENTUCKY. LIGHTER ACCUMULATIONS ARE EXPECTED NORTH OF THIS LINE UP TO THE INTERSTATE 64 CORRIDOR. THE SNOW SHOULD TAPER OFF QUICKLY MONDAY MORNING ACROSS WEST KENTUCKY.
THE COMBINATION OF AN EXPECTED DRY SNOW... AND COLD CONDITIONS AT ONSET MEANS ACCUMULATIONS SHOULD START IMMEDIATELY. MOST OF THE SNOW IS EXPECTED SUNDAY NIGHT WITH TEMPERATURES FALLING BACK INTO THE TEENS. AS A RESULT... SNOW MAY ACCUMULATE EFFICIENTLY ON ROADS DESPITE TREATMENT GIVEN THE RATHER COLD CONDITIONS.
THIS SYSTEM IS STILL EVOLVING. THE FORECAST TRACK AND AMOUNT OF PRECIPITATION HAVE BEEN CHANGING. ADJUSTMENTS TO BOTH ARE STILL EXPECTED. HOWEVER... CONFIDENCE IS INCREASING THAT ACCUMULATING SNOW WILL OCCUR.
Last Updated on February 13th 2015 by Dee Loflin
https://showmetimes.com/Blogpost/utig/Special-Weather-Statement-Issued--SNOW