ShowMe Weather
August 05th 2014 by Dee Loflin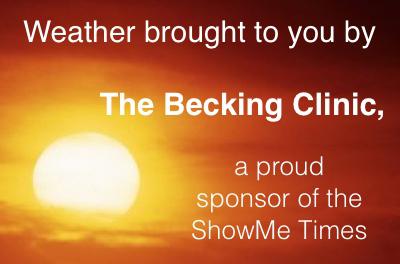 Tuesday, August 5, 2014

Weather brought by Becking Clinic, a proud sponsor of the ShowMe Times.
Rain with thunderstorms developing around 11:00 a.m. The rain should en around early afternoon. Decreasing cloudiness with temperatures falling to near 69F. NNW winds shifting to E at 10 to 15 mph.
This afternoon partly cloudy with afternoon showers or thunderstorms. High near 90F. Humidity 79%.
Sunset 8:02 p.m. Tonight scattered thunderstorms early, then becoming mostly clear after midnight. Low near 70F. Winds light and variable. Chance of rain 40%.
More of the same for Wednesday. Chance of rain 40%. High 94F.
Last Updated on August 05th 2014 by Dee Loflin
https://showmetimes.com/Blogpost/urfo/Weather-for-Tuesday-August-5-2014