ShowMe Weather
August 04th 2014 by Dee Loflin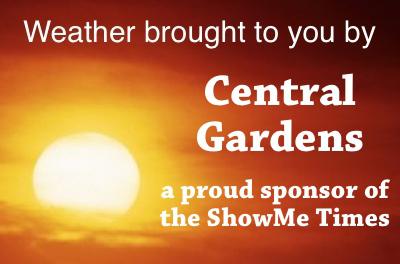 Monday, August 4, 2014

Weather brought to you by Central Gardens, a proud sponsor of the ShowMe Times.
Sunny with temperatures rising into the low 90s. It's going to be hot! Winds light and variable.
Sunset 8:03 p.m. Partly cloudy tonight with a stray shower or thunderstorm possible. Chance of rain 20%. Low 66F. Winds light and variable.
Tuesday's Forecast: More of the same with a high of 91F and scattered thunderstorms may develop in the afternoon. Chance of rain 40%.
Last Updated on August 04th 2014 by Dee Loflin
https://showmetimes.com/Blogpost/urfi/Weather-for-Monday-August-4-2014