ShowMe Weather
August 01st 2014 by Dee Loflin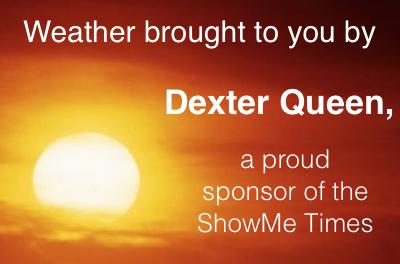 Friday, August 1, 2014

Weather brought to you by Dexter Queen, a proud sponsor of the ShowMe Times.
Partly cloudy skies with temperatures rising towards the mid 80s. Mostly sunshine and clouds all day with a chance of rain of 20%. High 83F. Winds light and variable.
Sunset 8:06 p.m. Clear skies this evening with a low around 65F. Winds light and variable with humidity 79%.
Weekend forecast: May have a slight risk of isolated thunderstorms on Saturday with high 87F and low 65F. Chance of rain 30% throughout the day.
Sunday sunny with high of 86F. Chance of rain Sunday is zero.
Last Updated on August 01st 2014 by Dee Loflin
https://showmetimes.com/Blogpost/urf4/Weather-for-Friday-Aug-1st-with-Weekend-Weather-Forecast