ShowMe Weather
February 01st 2014 by Dee Loflin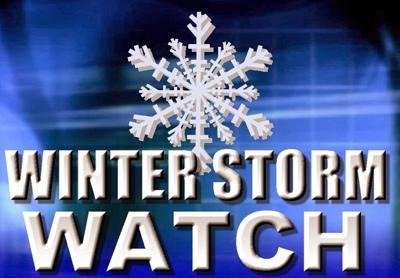 Submitted by
Dee Loflin, SMT Manager/Editor
Stoddard County, Missouri - The National Weather Service out of Paducah, Kentucky has issued a Winter Storm Watch for Stoddard County.
... WINTER STORM WATCH IN EFFECT FROM 6 AM CST SUNDAY THROUGH LATE SUNDAY NIGHT...
THE NATIONAL WEATHER SERVICE IN PADUCAH HAS ISSUED A WINTER STORM WATCH... WHICH IS IN EFFECT FROM 6 AM CST SUNDAY THROUGH LATE SUNDAY NIGHT.
* WINTER PRECIPITATION WILL BEGIN OVER SOUTHERN ILLINOIS EARLY SUNDAY MORNING. THE PRECIPITATION WILL LIKELY BEGIN AS A PERIOD OF FREEZING RAIN... THEN TRANSITION TO SLEET AND FINALLY OVER TO SNOW. RAIN OVER WESTERN KENTUCKY AND SOUTHWEST INDIANA SHOULD MAKE THE TRANSITION TO A FREEZING RAIN... SLEET AND SNOW DURING THE DAY SUNDAY. RAIN MAY NOT CHANGE OVER TO THE WINTRY MIX UNTIL LATE IN THE DAY OVER THE SOUTHERN PENNYRILE OF KENTUCKY. MOSTLY SNOW IS EXPECTED SUNDAY NIGHT... GRADUALLY TAPERING OFF FROM NORTHWEST TO SOUTHEAST.
* A LAYER OF FREEZING RAIN AND SLEET MAY BE PUT DOWN BEFORE THE TRANSITION TO ALL SNOW. 2 TO 5 INCHES OF SNOW MAY FALL BEFORE THE SNOW TAPERS OFF SUNDAY NIGHT. LOCALLY HIGHER AMOUNTS WILL BE POSSIBLE WHERE BANDS OF HEAVY SNOW FORM.
* THE COMBINATION OF ICE... SNOW AND FALLING DAYTIME TEMPERATURES MAY CREATE VERY HAZARDOUS TRAVEL CONDITIONS SUNDAY AND SUNDAY NIGHT.
PRECAUTIONARY/PREPAREDNESS ACTIONS...
A WINTER STORM WATCH MEANS THERE IS A POTENTIAL FOR SIGNIFICANT SNOW... SLEET... OR ICE ACCUMULATIONS THAT WOULD GREATLY IMPACT TRAVEL. STAY TUNED FOR LATER STATEMENTS. THIS WATCH WILL BE UPGRADED TO A WARNING IF WINTER STORM CONDITIONS BECOME MORE CERTAIN.
Last Updated on February 01st 2014 by Dee Loflin
https://showmetimes.com/Blogpost/uqim/Winter-Storm-Watch-Issued-for-Stoddard-County