ShowMe Weather
January 26th 2014 by Dee Loflin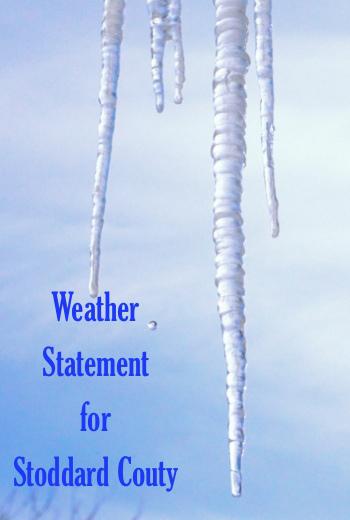 Submitted by
Dee Loflin, SMT Manager/Editor


Stoddard County, Missouri -
The National Weather Service out of Paducah, Kentucky has issued a Special Weather Statement.
... ANOTHER PERIOD OF BITTER COLD IS ON THE WAY...
THE BRIEF WARM UP THIS WEEKEND WILL BE REPLACED BY ANOTHER BLAST OF ARCTIC AIR... THAT WILL SPREAD ACROSS THE AREA EARLY MONDAY MORNING IN THE WAKE OF A STRONG COLD FRONT.
HIGHS MONDAY WILL RANGE FROM AROUND 13 DEGREES ALONG THE INTERSTATE 64 CORRIDOR TO THE MID 20S TOWARD THE ARKANSAS AND TENNESSEE STATE LINES... WITH HIGHS TUESDAY ONLY IN THE TEENS AREA WIDE. DURING THE DAYTIME MONDAY AND TUESDAY... WIND CHILL TEMPERATURES SHOULD REACH NO HIGHER THAN THE MID TEENS ANYWHERE. LOWS TUESDAY AND WEDNESDAY MORNING WILL BE IN THE SINGLE DIGITS TO JUST BELOW ZERO. WIND CHILL TEMPERATURES AS LOW AS 5 BELOW TO 15 BELOW ZERO ARE FORECAST TO OCCUR MONDAY NIGHT THROUGH TUESDAY MORNING.
EXTREME COLD IS DANGEROUS FOR ANY EXPOSED SKIN... AS FROSTBITE CAN OCCUR QUICKLY. HYPOTHERMIA CAN DEVELOP AS WELL IF PRECAUTIONS ARE NOT TAKEN. LEAVING PETS UNATTENDED TO IN THE COLD PUTS THEM IN DANGER AS WELL. THESE COLD CONDITIONS ONCE AGAIN WILL INCREASE THE CONCERN FOR FREEZING AND BURSTING OF WATER PIPES. UNLIKE CONDITIONS ON CALM... VERY COLD NIGHTS... THIS BITTER COLD WILL BE WIND DRIVEN. THIS CAN CAUSE THE VERY COLD AIR TO INFILTRATE POORLY INSULATED AREAS MORE EFFICIENTLY.
Last Updated on January 26th 2014 by Dee Loflin
https://showmetimes.com/Blogpost/uqhn/Special-Weather-Statement--Bitter-Cold