ShowMe Weather
February 15th 2015 by Dee Loflin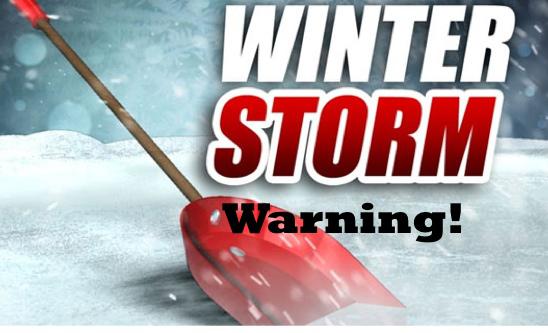 Stoddard County, Missouri -
The National Weather Service in Paducah, Kentucky has updated their Winter Storm Warning for Stoddard County, Missouri.
... WINTER STORM WARNING NOW IN EFFECT FROM 10 PM THIS EVENING TO 6 PM CST MONDAY...
THE WINTER STORM WARNING IS NOW IN EFFECT FROM 10 PM THIS EVENING TO 6 PM CST MONDAY.
* ACCUMULATIONS: SNOW WILL DEVELOP TONIGHT... WITH ACCUMULATIONS OF 1 TO 4 INCHES BY MONDAY MORNING. SNOW WILL CONTINUE ON MONDAY... HEAVY AT TIMES IN THE MORNING. SOME SLEET MAY MIX WITH THE SNOW AT TIMES ALONG THE TENNESSEE AND ARKANSAS BORDERS. STORM TOTAL ACCUMULATIONS WILL RANGE FROM 8 TO 12 INCHES.
* TIMING: SOME LIGHT SNOW OR FLURRIES ARE POSSIBLE THIS EVENING. THE STEADIER AND HEAVIER SNOW WILL DEVELOP AFTER MIDNIGHT. SNOWFALL RATES FROM 1 TO 2 INCHES PER HOUR ARE LIKELY MONDAY MORNING INTO THE EARLY AFTERNOON HOURS. THE SNOW WILL TAPER OFF FROM WEST TO EAST LATER IN THE AFTERNOON.
* MAIN IMPACT: HEAVY SNOW WILL QUICKLY COVER ROADS. VISIBILITY WILL BE LESS THAN ONE HALF MILE AT TIMES. SNOWFALL RATES OF 1 TO 2 INCHES PER HOUR WILL MAKE TRAVEL VERY HAZARDOUS. NORTHEAST WINDS FROM 10 TO 15 MPH WILL LOWER WIND CHILLS INTO THE SINGLE DIGITS ABOVE ZERO.
PRECAUTIONARY/PREPAREDNESS ACTIONS...
A WINTER STORM WARNING FOR HEAVY SNOW MEANS SEVERE WINTER WEATHER CONDITIONS ARE EXPECTED OR OCCURRING. SIGNIFICANT AMOUNTS OF SNOW ARE FORECAST THAT WILL MAKE TRAVEL DANGEROUS. ONLY TRAVEL IN AN EMERGENCY. IF YOU MUST TRAVEL... KEEP AN EXTRA FLASHLIGHT... FOOD... AND WATER IN YOUR VEHICLE IN CASE OF AN EMERGENCY.
Last Updated on February 15th 2015 by Dee Loflin
https://showmetimes.com/Blogpost/utim/Winter-Storm-Warning-Update