ShowMe Weather
April 12th 2022 by Dee Loflin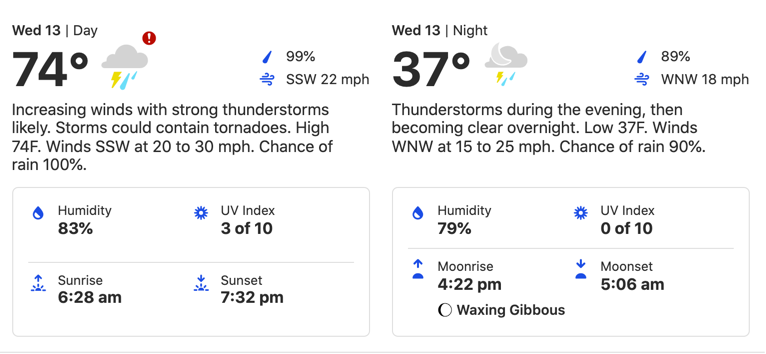 The National Weather Service in Paducah, KY has issued a Hazardous Weather Outlook for southeast Missouri for early Wednesday through the evening hours.
This Hazardous Weather Outlook is for portions of southern Illinois, southwest Indiana, western Kentucky, and southeast Missouri.
DAY ONE...Tonight

Scattered thunderstorms will be possible late tonight. Locally heavy rainfall and lightning are expected to be the primary hazards, though some small hail cannot be ruled out.
DAYS TWO THROUGH SEVEN...Wednesday through Monday
Severe thunderstorms are expected to develop over southeast Missouri early Wednesday afternoon, then progress eastward through the rest of the region later Wednesday afternoon and evening along and ahead of a cold front. Damaging winds, large hail, and even some tornadoes will all be possible with this system.
In addition, torrential rainfall with these thunderstorms may produce flash flooding, especially in southern portions of western Kentucky where 2 to 5 inches of rain fell last night.
SPOTTER INFORMATION STATEMENT...
Skywarn spotter activation will likely be needed, especially Wednesday afternoon and Wednesday evening.
Weather provided by Bagby Wealth Management.
Last Updated on April 12th 2022 by Dee Loflin
https://showmetimes.com/Blogpost/vh27/Hazardous-Weather-Outlook-for-Wednesday-in-Southeast-Missouri