ShowMe Weather
February 23rd 2020 by Dee Loflin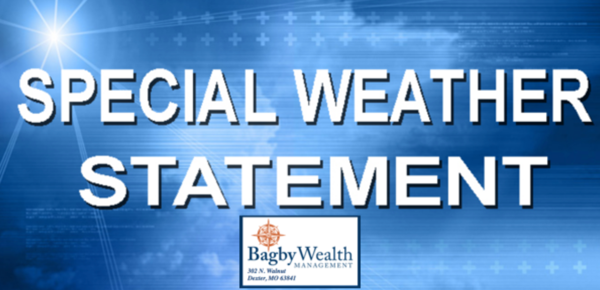 Stoddard County, MO - The National Weather Service in Paducah, Kentucky has issued a Special Weather Statement for Stoddard County until 4:45 a.m.
...HEAVY RAIN AND FLOODING POSSIBLE LATE TONIGHT AND MONDAY IN SOUTHEAST MISSOURI
... LOCALLY HEAVY RAIN AND A FEW THUNDERSTORMS WILL MOVE INTO SOUTHEAST MISSOURI LATE TONIGHT INTO MONDAY MORNING. FLOODING OF LOW WATER CROSSINGS, SMALL STREAMS, AND OTHER FLOOD-PRONE AREAS IS POSSIBLE. OF PARTICULAR CONCERN WILL BE AREAS OF HILLY TERRAIN IN THE MISSOURI OZARK FOOTHILLS, WHERE FLOODING COULD DEVELOP IN A SHORT PERIOD OF TIME.
ISOLATED THUNDERSTORMS DURING THE LATE AFTERNOON AND EARLY EVENING HOURS ON MONDAY MAY CAUSE SOME LOCALIZED FLOODING ISSUES AS WELL.
THOSE TRAVELING LATE TONIGHT OR DURING THE MORNING COMMUTE MONDAY SHOULD BE ALERT FOR FLOODING ISSUES. REMEMBER TO NEVER DRIVE THROUGH A FLOODED ROAD. TURN AROUND, DON'T DROWN.
Weather provided by Bagby Wealth Management a supporting advertiser of the ShowMe Times!
Last Updated on February 23rd 2020 by Dee Loflin
https://showmetimes.com/Blogpost/ve07/Special-Weather-Statement-Until-445-am-Monday-for-Stoddard-County-MO