ShowMe Weather
January 11th 2020 by Dee Loflin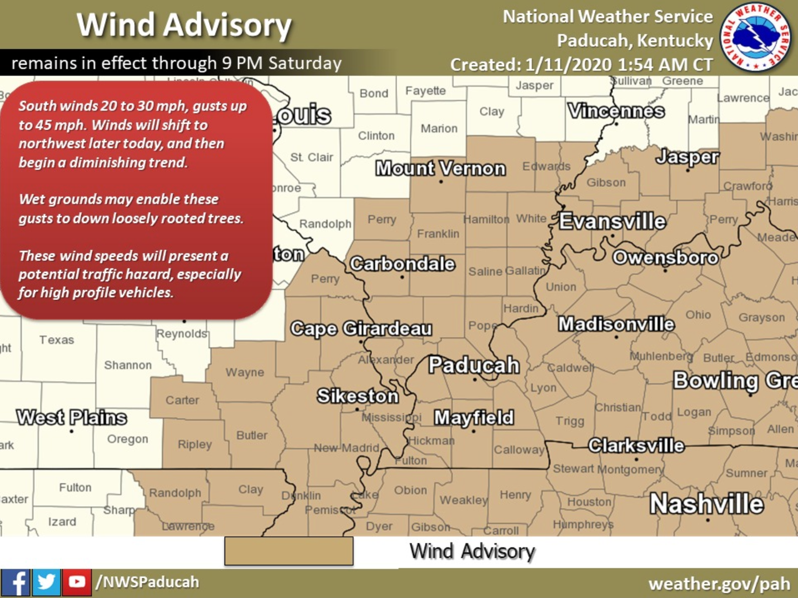 Stoddard County, Missouri - The National Weather Service in Paducah, Kentucky has continued the Wind Advisory for Stoddard County until 9 p.m. Saturday evening.
...WIND ADVISORY REMAINS IN EFFECT UNTIL 9 PM CST THIS EVENING...
* TIMING...STRONG AND GUSTY WINDS WILL CONTINUE TO SHIFT EASTWARD ACROSS THE AREA EARLY TODAY, AND WILL BE MOST ROBUST THROUGH THE EARLY TO MID AFTERNOON HOURS.
A DIMINISHING TREND WILL OCCUR BY EVENING, PERHAPS A LITTLE EARLIER ALONG AND WEST OF THE WABASH AND MISSISSIPPI RIVERS. * WINDS... SOUTH WINDS 20 TO 30 MPH MAY GUST UP TO 45 MPH AT TIMES.
WINDS WILL SHIFT TO THE NORTHWEST AFTER A COLD FRONT'S PASSAGE LATER TODAY.
* IMPACTS... SATURATED SOILS MAY ENABLE THESE GUSTY WINDS TO DOWN LOOSELY ROOTED TREES. THE STRONG WINDS WILL ALSO PRESENT A POTENTIAL TRAFFIC HAZARD, ESPECIALLY FOR HIGH PROFILE VEHICLES. PRECAUTIONARY/PREPAREDNESS ACTIONS...
A WIND ADVISORY IS ISSUED WHEN SUSTAINED WINDS ARE EXPECTED TO REACH 30 MPH OR GREATER FOR LONGER THAN ONE HOUR...OR WIND GUSTS ARE EXPECTED TO REACH 40 MPH FOR ANY DURATION

Last Updated on January 11th 2020 by Dee Loflin
https://showmetimes.com/Blogpost/vdpn/Wind-Advisory-Until-9-pm-Saturday-for-Stoddard-County