ShowMe Weather
January 22nd 2020 by Dee Loflin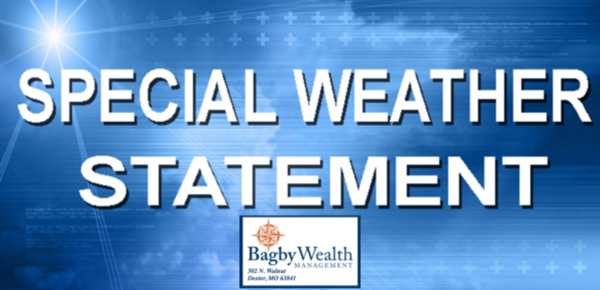 Stoddard County, Missouri - The National Weather Service in Paducah, Kentucky has issued a Special Weather Statement for Stoddard County, Missouri.
...VERY LIGHT WINTRY MIX POSSIBLE OVER PARTS OF SOUTHERN ILLINOIS AND SOUTHEAST MISSOURI LATE TONIGHT AND EARLY THURSDAY.
A DYNAMIC WEATHER SYSTEM WILL LIKELY PRODUCE A LIGHT WINTRY MIX OVER PORTIONS OF SOUTHEAST MISSOURI AND SOUTHERN ILLINOIS TONIGHT INTO THURSDAY MORNING. TEMPERATURES TONIGHT AND EARLY THURSDAY WILL BE CLOSE TO THE FREEZING MARK AS THE PRECIPITATION MOVES IN FROM WEST TO EAST. AT THIS TIME, ANY ACCUMULATIONS OF SNOW, SLEET, OR FREEZING RAIN ARE EXPECTED TO BE EXTREMELY SMALL AND SHOULD NOT POSE A TRAVEL CONCERN.
REGARDLESS, DRIVERS SHOULD STILL BE WATCHFUL FOR ANY SLICK SPOTS ON ELEVATED ROAD SURFACES, SUCH AS BRIDGES, LATE TONIGHT. THE BEST CHANCE FOR SEEING ANY WINTRY MIX AT ALL WILL BE ALONG AND WEST OF THE MISSISSIPPI RIVER IN SOUTHEAST MISSOURI, AND IN SOUTHERN ILLINOIS, ALONG AND WEST OF INTERSTATE 57, NORTHWARD TO INTERSTATE 64.
ANY WINTRY MIX SHOULD TURN BACK TO RAIN BEFORE NOON ON THURSDAY, LIMITING ANY FURTHER TRAVEL CONCERNS FOR DRIVERS IN SOUTHEAST MISSOURI AND SOUTHERN ILLINOIS. IF YOU ARE PLANNING TRAVELING FURTHER TO THE WEST TONIGHT, BE ADVISED THAT A WINTER WEATHER ADVISORY HAS BEEN POSTED FOR THE FOOTHILL COUNTIES OF SOUTHEAST MISSOURI TONIGHT AND THURSDAY MORNING. MINOR ACCUMULATIONS OF SNOW, SLEET, AND ICE ARE POSSIBLE IN THE ADVISORY AREA AND MAY CAUSE TRAVEL PROBLEMS.

Last Updated on January 22nd 2020 by Dee Loflin
https://showmetimes.com/Blogpost/vdri/Special-Weather-Statement-for-Wednesday-January-22-2020