ShowMe Weather
July 13th 2018 by Dee Loflin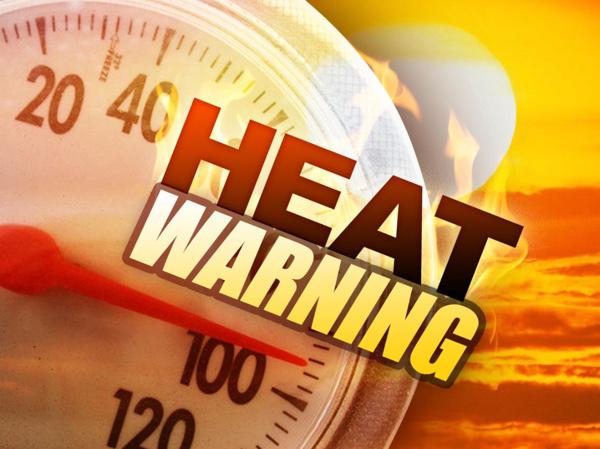 Stoddard County, Missouri - The National Weather Service in Paducah, Kentucky has issued a Special Weather Statement until 4 a.m. Saturday. Heat Index could reach 110 degrees!!!!
SPECIAL WEATHER STATEMENT UNTIL 4AM CDT SAT
...MORE OPPRESSIVE HEAT AND HUMIDITY OVER THE WEEKEND
... HIGH TEMPERATURES IN THE MID 90S COMBINED WITH HIGH HUMIDITY WILL SEND HEAT INDEX VALUES INTO THE 100 TO 110 DEGREE RANGE ON SATURDAY.
THE MOST OPPRESSIVE CONDITIONS WILL LIKELY BE FELT ACROSS SOUTHEAST MISSOURI, SOUTHERN ILLINOIS, AND FAR WESTERN KENTUCKY. HEAT INDEX READINGS WILL LIKELY TOP OUT BETWEEN 100 AND 105 ON SUNDAY, WITH SCATTERED THUNDERSTORMS AS THE PRIMARY OPPORTUNITY FOR ANY RELIEF.
EXERCISE CAUTION TO AVOID HEAT RELATED ILLNESSES. TAKE FREQUENT BREAKS IN AIR CONDITIONED SPACES.
DRINK PLENTY OF WATER. CHECK ON THOSE WITHOUT AIR CONDITIONING OR IN POOR HEALTH.
NEVER LEAVE A CHILD OR PET IN A VEHICLE, ESPECIALLY DURING HOT WEATHER WHEN VEHICLE INTERIORS CAN REACH LETHAL TEMPERATURES IN MINUTES.

Last Updated on July 13th 2018 by Dee Loflin
https://showmetimes.com/Blogpost/vapc/Special-Weather-Statement--Heat-Index-Could-Reach-110-Degrees