ShowMe Weather
July 24th 2017 by Dee Loflin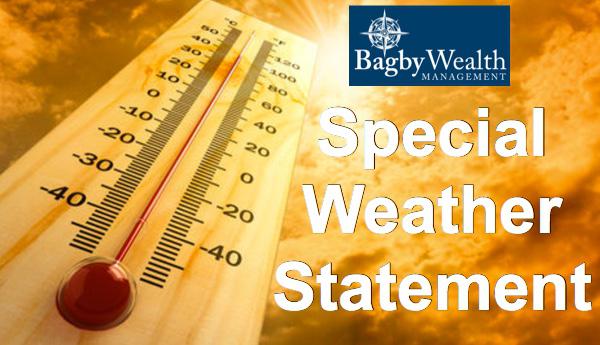 Stoddard County, Missouri - The National Weather Service in Paducah, Kentucky has issued a SPECIAL WEATHER STATEMENT UNTIL 5 a.m. CDT Tuesday, July 25, 2017
SPECIAL WEATHER STATEMENT UNTIL 5AM CDT TUE
...HEAT AND HUMIDITY WILL BE A CONCERN INTO MID WEEK
... WITH HIGH TEMPERATURES AROUND 90 DEGREES, HEAT INDEX VALUES OF 100 TO 105 DEGREES ARE EXPECTED TUESDAY AFTERNOON ACROSS SOUTHEAST MISSOURI, FAR WEST KENTUCKY AND EXTREME SOUTHERN ILLINOIS.
BY WEDNESDAY, AFTERNOON HIGHS WILL REACH THE LOWER TO MIDDLE 90S. WHEN COMBINED WITH HIGH HUMIDITY, THESE CONDITIONS WILL PRODUCE HEAT INDICES OF AT LEAST 100 TO 105 DEGREES ACROSS THE ENTIRE REGION. HEAT INDEX VALUES IN SOUTHEAST MISSOURI, FAR WEST KENTUCKY AND SOUTHWEST ILLINOIS COULD REACH AROUND 107 DEGREES WEDNESDAY AFTERNOON.
A HEAT ADVISORY MAY BE NEEDED WEDNESDAY IF FORECAST MODELS CONTINUE TO INDICATE THESE CONDITIONS.
ANYTIME IT IS HOT AND HUMID, TAKE EXTRA PRECAUTIONS IF YOU WORK OR SPEND TIME OUTSIDE. WHEN POSSIBLE
...RESCHEDULE STRENUOUS ACTIVITIES TO EARLY MORNING OR EVENING.
KNOW THE SIGNS AND SYMPTOMS OF HEAT EXHAUSTION AND HEAT STROKE. WEAR LIGHT WEIGHT AND LOOSE FITTING CLOTHING WHEN POSSIBLE AND DRINK PLENTY OF WATER.

Last Updated on July 24th 2017 by Dee Loflin
https://showmetimes.com/Blogpost/v7v3/Special-Weather-Statement-Issued-Until-5-am-Tuesday