ShowMe Weather
July 13th 2017 by Dee Loflin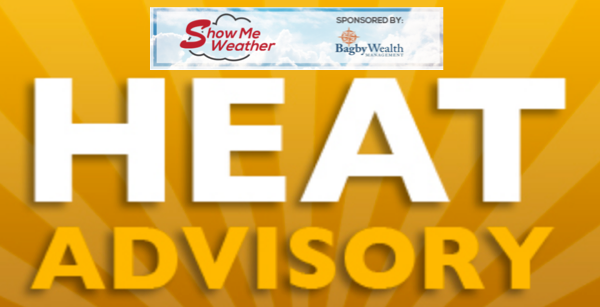 Stoddard County, Missouri - The National Weather Service in Paducah, Kentucky has issued a SPECIAL WEATHER STATEMENT UNTIL 5:30PM CDT THURSDAY
...HEAT INDEX VALUES OF 100 TO 105 DEGREES EXPECTED TODAY OVER MOST OF THE AREA
... ANOTHER AFTERNOON OF OPPRESSIVE HEAT AND HUMIDITY CAN BE EXPECTED TODAY, LEADING TO HEAT INDEX VALUES BETWEEN 100 AND 105 DEGREES.
THE HIGHEST HEAT INDEX VALUES WILL BE OVER SOUTHEAST MISSOURI AND SOUTHERN ILLINOIS WHERE ISOLATED LOCATION MAY BRIEFLY REACH 105. VALUES OF 100 TO 102 ARE POSSIBLE OVER SOUTHWEST INDIANA AND WEST KENTUCKY. A FEW SHOWERS AND THUNDERSTORMS ARE EXPECTED TODAY, ESPECIALLY NEAR I-64, WHICH WILL HELP KEEP THE HEAT DOWN AT A FEW LOCATIONS.
BE WATCHFUL FOR THOSE ESPECIALLY IMPACTED BY THE HEAT. YOUNG CHILDREN, THE ELDERLY, PERSONS WITH SERIOUS HEALTH ISSUES, AND PETS ARE ESPECIALLY SUSCEPTIBLE TO THE HEAT DURING THIS TIME OF YEAR. DO NOT LEAVE YOUNG CHILDREN OR PETS IN CARS WITH CLOSED WINDOWS...THIS COULD BECOME DEADLY SITUATION IN A SHORT PERIOD OF TIME. BE SURE TO DRINK PLENTY OF WATER, TAKE FREQUENT REST BREAKS IN THE SHADE OR AIR CONDITIONED SHELTER. GET OUT OF THE HEAT, IF YOU ARE EXPERIENCING HEALTH ISSUES.
Last Updated on July 13th 2017 by Dee Loflin
https://showmetimes.com/Blogpost/v7sd/Heat-Index-to-Potentially-Reach-105-Today