ShowMe Weather
March 06th 2017 by Dee Loflin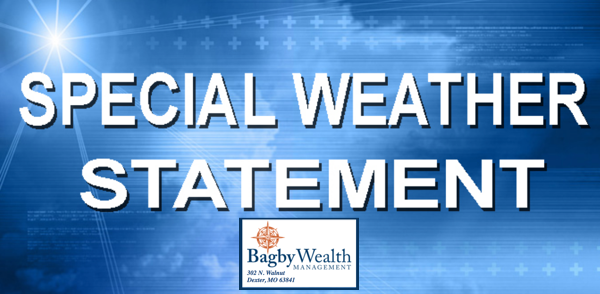 Stoddard County, Missouri - The National Weather Service in Paducah, Kentucky has issued a Special Weather Statement until 11 p.m.

SPECIAL WEATHER STATEMENT UNTIL 11PM CST MON
...OCCASIONAL WIND GUSTS BETWEEN 35 AND 50 MPH POSSIBLE AHEAD OF THUNDERSTORMS LATER TONIGHT
... ALTHOUGH THE CURRENT LINE OF THUNDERSTORMS REMAINS WELL TO THE WEST, APPROACHING NORTHWEST MISSOURI AS OF 5 PM CST, GUSTY SOUTH TO SOUTHWEST WINDS ARE EXPECTED TO INCREASE THROUGHOUT THE EVENING AND THROUGH THE MIDNIGHT HOUR ACROSS THE QUAD STATE REGION. STRONG WIND GUSTS IN EXCESS OF 35 MPH WILL LIKELY DEVELOP OVER SOUTHWEST ILLINOIS, WEST OF INTERSTATE 57 AND NORTH OF ROUTE 13 IN SOUTHERN ILLINOIS BETWEEN 7 PM AND 8 PM CST. THESE WIND GUSTS WILL GRADUALLY EXPAND ACROSS SOUTHERN ILLINOIS, REACHING ACROSS THE OHIO AND WABASH RIVERS INTO SOUTHWEST INDIANA AND WEST KENTUCKY
BETWEEN 10 PM AND 11 PM CST. WIND GUSTS MAY EVEN APPROACH 50 MPH OVER PARTS OF SOUTHERN ILLINOIS AND SOUTHEAST MISSOURI AROUND OR SHORTLY AFTER MIDNIGHT.
IF YOU ARE TRAVELING TONIGHT, BE PREPARED FOR GUSTY WINDS THAT MAY CAUSE ISSUES FOR CONTROLLING YOUR VEHICLE.
THIS WILL BE ESPECIALLY PROBLEMATIC FOR TRACTOR TRAILERS, RECREATIONAL VEHICLES, AND OTHER HIGH PROFILE VEHICLES. THESE WINDS MAY ALSO DOWN BRANCHES AND SOME TREES WEAKENED BY STORMS EARLY LAST WEEK. IF THESE BRANCHES FALL ON POWER LINES, THIS MAY ALSO CAUSE SOME POWER OUTAGES.
AS THE LINE OF THUNDERSTORMS MOVE INTO THE AREA LATE TONIGHT, STRONG TO SEVERE WINDS MAY BE LIKELY. STAY TUNED TO NOAA WEATHER RADIO, COMMERCIAL TELEVISION AND RADIO, AS WELL AS SOCIAL MEDIA FOR THE LATEST WEATHER UPDATES, STATEMENTS AND WARNINGS.

Last Updated on March 06th 2017 by Dee Loflin
https://showmetimes.com/Blogpost/v6u4/Special-Weather-Statement-Issued-for-Stoddard-County-MO