ShowMe Weather
December 25th 2015 by Dee Loflin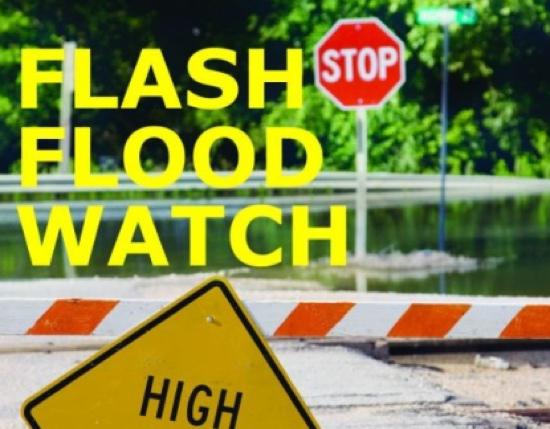 Stoddard County, Missouri - The National Weather Service in Paducah, Kentucky has issued a Flash Flood Watch from Saturday, noon through Monday afternoon for Stoddard County, Missouri.
... FLASH FLOOD WATCH REMAINS IN EFFECT FROM SATURDAY AFTERNOON THROUGH MONDAY AFTERNOON...
THE FLASH FLOOD WATCH CONTINUES FOR
* PORTIONS OF SOUTHERN ILLINOIS AND SOUTHEAST MISSOURI... INCLUDING THE FOLLOWING AREAS... IN SOUTHERN ILLINOIS... EDWARDS... FRANKLIN... HAMILTON... JACKSON... JEFFERSON... PERRY IL... WABASH AND WAYNE IL. IN SOUTHEAST MISSOURI... BOLLINGER... BUTLER... CAPE GIRARDEAU... CARTER... NEW MADRID... PERRY MO... RIPLEY... SCOTT... STODDARD AND WAYNE MO.
* FROM SATURDAY AFTERNOON THROUGH MONDAY AFTERNOON
* RAIN WILL DEVELOP AGAIN BY SATURDAY... AND CONTINUE OFF AND ON THROUGH THE REMAINDER OF THE CHRISTMAS HOLIDAY WEEKEND AND ON INTO MONDAY. RAIN WILL BE HEAVY AT TIMES. FORECAST STORM TOTAL RAINFALL COULD EXCEED 4 INCHES BY THE TIME THE SYSTEM IS DEPARTING MONDAY EVENING. ISOLATED THUNDERSTORMS COULD CAUSE LOCALIZED HIGHER RAINFALL TOTALS... ESPECIALLY SUNDAY NIGHT AND MONDAY.
* THE GROUND IS WET AND WILL SATURATE QUICKLY WITH ADDITIONAL RAINS. MANY STREAMS AND CREEKS ARE ALREADY AT OR NEAR BANKFULL. ADDITIONAL ACCUMULATED INCHES OF RAINFALL WILL CAUSE SMALL RIVERS AND STREAMS TO REACT QUICKLY. LOW LYING AND FLOOD PRONE AREAS WILL BE PARTICULARLY PRONE TO FLOODING.
PRECAUTIONARY/PREPAREDNESS ACTIONS...
A FLASH FLOOD WATCH MEANS THAT CONDITIONS MAY DEVELOP THAT LEAD TO FLASH FLOODING. FLASH FLOODING IS A VERY DANGEROUS SITUATION.
YOU SHOULD MONITOR LATER FORECASTS AND BE PREPARED TO TAKE ACTION SHOULD FLASH FLOOD WARNINGS BE ISSUED.
Last Updated on December 25th 2015 by Dee Loflin
https://showmetimes.com/Blogpost/v2gt/Flash-Flood-Watch-Issued-for-Stoddard-County-Missouri