ShowMe Weather
December 23rd 2015 by Dee Loflin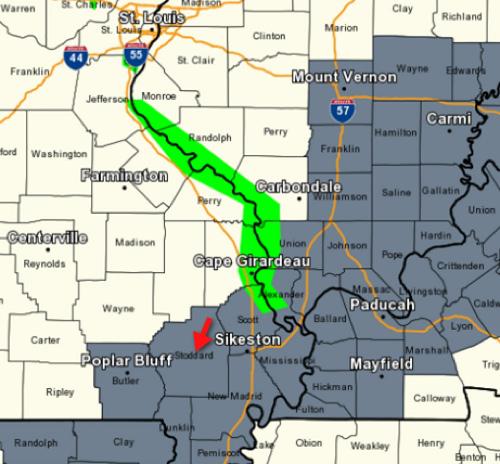 Stoddard County, Missouri - The National Weather Service has issued a Dense Fog Advisory for Stoddard County, Missouri and most of the Heartland.
... DENSE FOG ADVISORY IN EFFECT UNTIL MIDNIGHT CST TONIGHT...
THE NATIONAL WEATHER SERVICE IN PADUCAH HAS ISSUED A DENSE FOG ADVISORY... WHICH IS IN EFFECT UNTIL MIDNIGHT CST TONIGHT.
VISIBILITY... VISIBILITIES FROM ONE QUARTER MILE TO NEAR ZERO CAN BE EXPECTED. AREAS AFFECTED ARE GENERALLY EAST OF A LINE FROM MOUNT VERNON ILLINOIS TO CAPE GIRARDEAU TO POPLAR BLUFF MISSOURI... AND NORTH AND WEST OF A LINE FROM CALHOUN TO MAYFIELD KENTUCKY.
* IMPACTS... MOTORISTS ACROSS THIS REGION SHOULD ALLOW EXTRA TIME TO REACH THEIR DESTINATIONS THIS EVENING AND BE PREPARED FOR SUDDEN DEVELOPMENT OF VERY THICK FOG AND DRIZZLE.
PRECAUTIONARY/PREPAREDNESS ACTIONS...
A DENSE FOG ADVISORY MEANS VISIBILITIES WILL FREQUENTLY BE REDUCED TO LESS THAN ONE QUARTER MILE. IF DRIVING... SLOW DOWN... USE YOUR LOW BEAM HEADLIGHTS... AND LEAVE PLENTY OF DISTANCE AHEAD OF YOU.
Last Updated on December 23rd 2015 by Dee Loflin
https://showmetimes.com/Blogpost/v2gi/Dense-Fog-Advisory-Issued-for-Stoddard-County-Missouri