ShowMe Weather
December 13th 2015 by Dee Loflin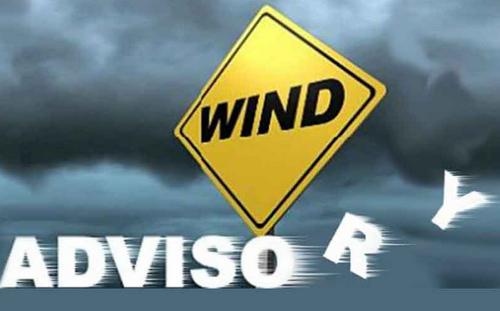 Stoddard County, Missouri -
The National Weather Service in Paducah, Kentucky has issued a Wind Advisory until 10:00 p.m. this evening, Sunday, December 13, 2015.
... WIND ADVISORY IN EFFECT FROM 3 PM THIS AFTERNOON TO 10 PM CST THIS EVENING...
THE NATIONAL WEATHER SERVICE IN PADUCAH HAS ISSUED A WIND ADVISORY... WHICH IS IN EFFECT UNTIL 10 PM CST THIS EVENING FOR ALL OF SOUTHEAST MISSOURI.
* TIMING... .WINDS ARE FORECAST TO INCREASE BY DARK AND CONTINUE STRONG AND GUSTY THROUGH MID TO LATE EVENING.
* WINDS... ..SUSTAINED SOUTH 20 TO 30 MPH WITH GUSTS TO 45 MPH.
* IMPACTS... TREE BRANCHES AND SMALL LIMBS MAY BE BROUGHT DOWN. HOLIDAY DECORATIONS AND OTHER OUTDOOR OBJECTS NOT TIED DOWN MAY BE BLOWN AROUND AND POSSIBLY DAMAGED.
PRECAUTIONARY/PREPAREDNESS ACTIONS...
A WIND ADVISORY IS ISSUED WHEN SUSTAINED WINDS ARE EXPECTED TO REACH 30 MPH OR GREATER FOR LONGER THAN ONE HOUR... OR WIND GUSTS ARE EXPECTED TO REACH 45 MPH FOR ANY DURATION.
Last Updated on December 13th 2015 by Dee Loflin
https://showmetimes.com/Blogpost/uvea/Wind-Advisory-Issued-for-Stoddard-County