ShowMe Weather
August 21st 2014 by Dee Loflin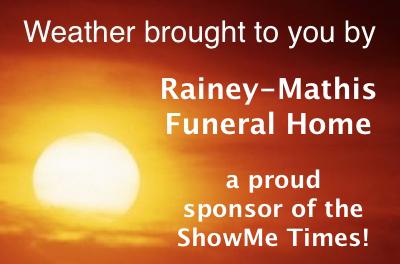 Thursday, August 21, 2014

Weather brought to you by Rainey-Mathis Funeral Home, a proud sponsor of the ShowMe Times.
Mostly sunny with temperatures rising towards the low 90s this morning. This afternoon lots of sunshine with a high of 95F. Heat Advisory is still in effect until 7:00 p.m. Saturday evening. Chance of rain zero percent.
Sunset 7:44 p.m. Tonight clear. Low of 76F. Winds SSW at 5 to 10 mph.
Friday Forecast: HOT HOT HOT! Temperatures near 100F. Sunny with humidity 72%.
Last Updated on August 21st 2014 by Dee Loflin
https://showmetimes.com/Blogpost/usao/Weather-for-Thursday-August-21-2014