ShowMe Weather
August 14th 2014 by Dee Loflin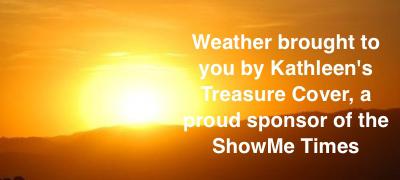 Thursday, August 14, 2014

Weather brought to you by Kathleen's Treasure Cover, a proud sponsor of the ShowMe Times.
Sunny with temperatures rising towards the low 80s. This afternoon a good deal of sunshine with a high of 85F. Winds light and variable.
Sunset 7:52 p.m. Mostly clear tonight with a few passing clouds. Low 64F. Winds light and variable.
Pollen Alert for Stoddard County.

Very high for Weeds like thistle, vines and Johnson grass.
Last Updated on August 14th 2014 by Dee Loflin
https://showmetimes.com/Blogpost/urh8/Weather-for-Thursday-August-14-2014