ShowMe Weather
July 26th 2014 by Dee Loflin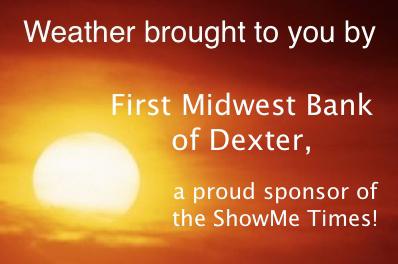 July 26, 2014

Weather brought to you by First Midwest Bank, a proud sponsor of the ShowMe Times.
A mixture of sun and clouds today with a heat index near 105F. Temperatures rising to 95F. Wins SSW at 10 to 20 mph. Chance of rain very little. Humidity 65%.
Sunset 8:11 p.m. Tongith a few clouds. A stray shower or thunderstorm is possible. Chance of rain 20%. Humidity74%. Low around 75F. Winds SSW at 5 to 10 mph.
Last Updated on July 26th 2014 by Dee Loflin
https://showmetimes.com/Blogpost/ure3/Weather-for-Friday-July-26-2014