ShowMe Weather
July 24th 2014 by Dee Loflin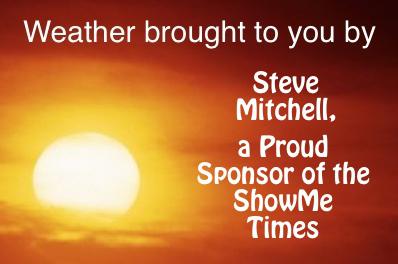 Thursday, July 24, 2014

Weather brought to you by Steven Mitchell, candidate for Associate Circuit Judge Division III, a proud sponsor of the ShowMe Times.
Sunny today with temperatures rising to 80F. Winds NNE at 10 to 15 mph.
Chance of rain zero. Humidity will be low during the day at 53%, but later this evening rise to 80%.
Sunset 8:13 p.m. Tonight mostly clear with near record low temperatures of 60F. Winds NNE at 5 to 10 mph.
Last Updated on July 24th 2014 by Dee Loflin
https://showmetimes.com/Blogpost/urdp/Weather-for-Thursday-July-24-2014