ShowMe Weather
January 12th 2017 by Dee Loflin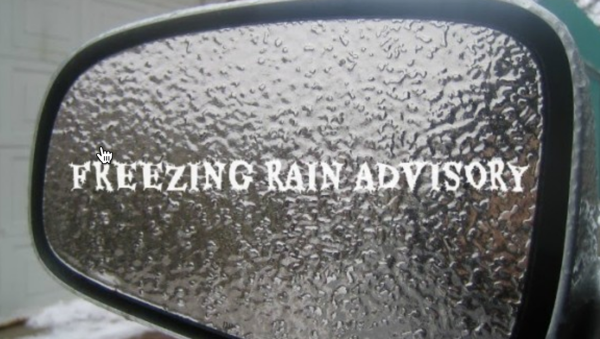 Stoddard County, Missouri - The National Weather Service in Paducah, Kentucky has issued a Freezing Rain Advisory for Stoddard County, Missouri.

... FREEZING RAIN ADVISORY IN EFFECT FROM 3 AM TO 6 PM CST FRIDAY
... THE NATIONAL WEATHER SERVICE IN PADUCAH HAS ISSUED A FREEZING RAIN ADVISORY
... WHICH IS IN EFFECT FROM 3 AM TO 6 PM CST FRIDAY. * TIMING
.. LATE TONIGHT THROUGH THE DAY ON FRIDAY. * ICE ACCUMULATIONS
... A GLAZE OF ONE TO TWO TENTHS OF AN INCH OF ICE LIKELY MOST AREAS. ACCUMULATIONS CLOSE TO ONE QUARTER OF AN INCH EXPECTED FROM MARBLE HILL TO PERRYVILLE... CARBONDALE AND PINCKNEYVILLE. * IMPACTS
... TRAVEL IMPACTS EXPECTED
... ESPECIALLY ON SECONDARY AND UNTREATED ROADS. SIDEWALKS AND PARKING LOTS MAY BE VERY SLICK IF NOT TREATED. VEHICLES WILL ICE OVER. PRECAUTIONARY/PREPAREDNESS ACTIONS
... A FREEZING RAIN ADVISORY MEANS THAT LESS THAN ONE QUARTER INCH OF FREEZING RAIN OR FREEZING DRIZZLE WILL CAUSE HAZARDOUS TRAVEL CONDITIONS. BE PREPARED FOR SLIPPERY ROADS. SLOW DOWN AND USE CAUTION WHILE DRIVING.

Last Updated on January 12th 2017 by Dee Loflin
https://showmetimes.com/Blogpost/v6d3/Freezing-Rain-Advisory-for-Stoddard-County